The latest BB Cream to come to the market is Vichy's ProEven BB Cream. The cream comes in a light and medium version.
It promises to:
· Even skin tone
· Boost radiance
· Conceal redness, flaws and imperfections
· Reduce the look of pores and fine lines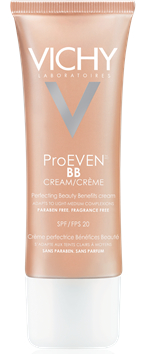 I, of course, tried the medium version and I have to say that it wore pretty light. I would think that this was more of a light, and the light is probably more of a "fair" type of colour. The cream was completely unwearable because of its super light colour yet opaque and whitish finish.
After checking out some Asian BB Creams, I think that this comes pretty close to those in terms of colour and texture. It has an almost chalky after-feel and definitely makes skin look porcelain-like.
If you are looking for something with more coverage and a smooth matte finish, then this cream could be for you if it matches your skin tone. I am happy to say that it also has SPF 20 in it which means that it's going to be more than just a foundation.
Has anyone else tried this? Thoughts?