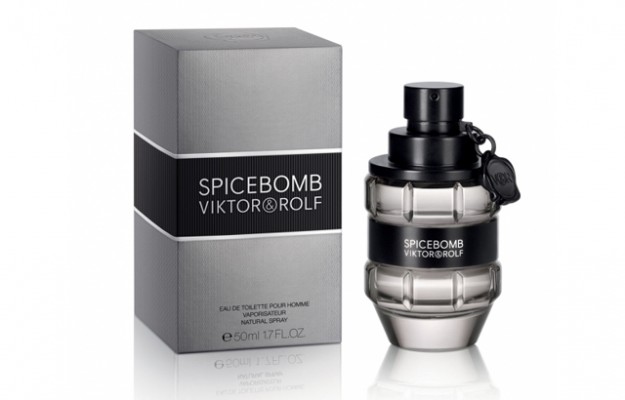 With the immense success of Flowerbomb (which didn't smell like flowers), this spring, Viktor and Rolf have launched a new scent for men called Spicebomb. I'll cut to the chase and say that it doesn't smell like spices, but it does stay true to the spirit of Flowerbomb.
The notes for Spicebomb include bergamot and grapefruit to open, and then finish with tobacco, leather, and pink pepper. There are also musk notes, and a sweet cherry almond which seems to want to take center stage. I do smell some vanilla (is it tonka bean?) in this and I don't like that, but that was the case with Flowerbomb too, which had a distinct amber finish that overwhelmed the rose.
Like Flowerbomb, Spicebomb has sweet notes that overwhelm any other ones that are in the fragrance. I found that this made the scent less pleasing – men's scents should be clean and fresh, and this is anything but. On the flip side, I don't mind if they are smoky and intense, but this doesn't go that far either. The scent is meant to be edgy – and it's different, that's for sure. Spicebomb smells like nothing else on the market, and men who are tired of the same old same old will love it, but I'm not so sure that the women in their lives will love it too.
All said and done, I will say that the scent is very well reviewed and received, so I am definitely in the minority when I say that I don't like it. David Lackie and Natalie Atkinson of the National Post gave it 3 and 3.5 stars out of 4 respectively. Bois de Jasmin gave it 5/5, and Now Smell This likes it too. I still find it too sweet and not spicy enough, so I stand by my review.
Pick it up at The Bay: $75 for 50 ml, $99 for 90 ml.