Violet shampoo is great for when you want to tone down any brassy or orange tones in your hair, so it's not just great for silver or platinum hair, but even good for those of us with darker coloured hair that we want to keep in the ash-toned family rather than have it get too warm.  To help me do that, I use a violet shampoo on a weekly basis. It helps keep highlights looking blonde instead of orange, and if there's any grey, it makes it look clear instead of yellowish.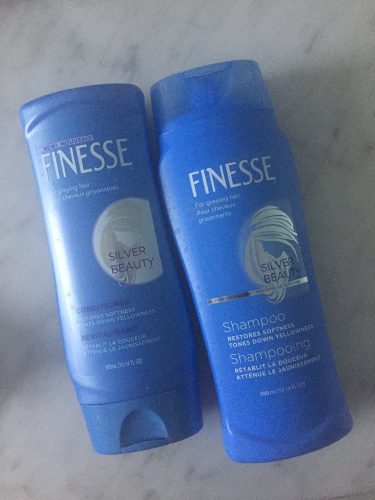 Now, Finesse has launched the Silver Beauty Shampoo and Conditioner ($2.99 each) so that you can keep your colour bright with the help of violet pigments.
I love that not only are there violet pigments in the shampoo and conditioner, but they're subtle enough to use daily.  A violet-pigmented shampoo from the salon is quite strongly pigmented. Often there's a touch of blue on my hands after I use it, but that's why you only need to use it once a week.  The pigments in this shampoo are light so you could use it daily if you wanted to. The shampoo is nice and moisturizing but not heavy, and the conditioner is smoothing. Use both of them together and your hair will be soft and smooth.
Available at drugstores and mass merchandisers.