Luxury tan brand, Vita Liberata, not only has great self-tanning products, but it also offers you the possibility of a temporary tan that makes your skin look great.  Think of it like body makeup!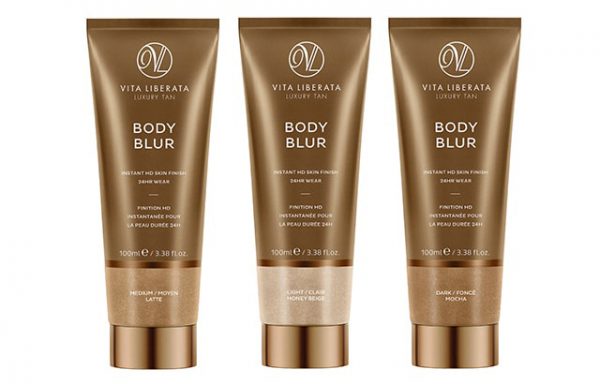 Body Blur is just that – it's transfer resistant, slightly shimmery formula for body and face that makes skin look flawless through the use of pigments and light reflective particles. It adds glow and radiance to your skin without look too obvious.
I use it while wearing skirts and dresses, and as long as I wait for it to set, I've found no transferring on to my clothes.  It does seem to come off on my hands if I rub them on my body, but only slightly, and if it wasn't for the shimmer on my hands, I might not have noticed.
Body Blur comes in three colours: Latte Light (for fair skins), Latte (for medium skin tones), and Mocha (for darker skin tones).
I identify as medium most days, and I found Latte to be slightly pink on me, but it still made my skin look so good!  I put it on one leg, stepped back to see how it looked, and it was so flawless that I proceeded to use this all over.  It's hard to mess up with a colour since you can put a little or a lot to get the perfect effect.  It actually helps increase the look of muscle definition too which is a nice perk.
The ingredients include glycerine, shea butter, and silicone, so it's moisturizing as well.  There's no self-tanner in this, so it's purely to be used like body makeup.
Pick up Body Blur at Sephora, $50.