I love trying new sunscreens, and it's always a mission of mine to find one that's not only good for my skin but also effective and sheer.
Well, Vivier Skin Sheer is the latest sunscreen to join my rotation.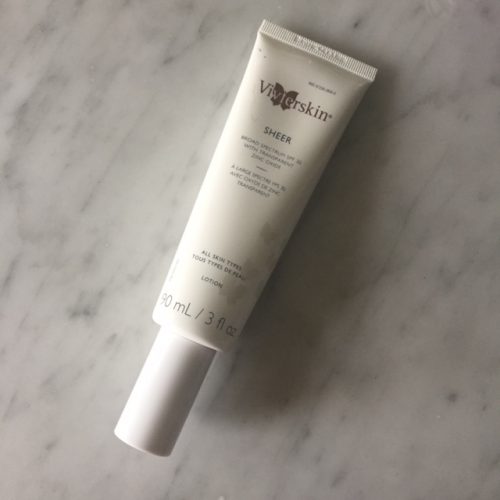 Made with Zinc Oxide and other sun protection ingredients, this sunscreen also has silica to create a feather-light powdery finish on the skin, but also shea butter to help moisturize and keep the sunscreen from being too drying.
True to its name, it is absolutely sheer.  In fact, it has a markedly less whitish cast than other zinc oxide sunscreens that I've tried and it goes on like a lotion rather than a cream, so it's not at all heavy or thick on your skin.  It blends flawlessly and even makes a great primer for makeup.
If you're of a medium skin tone or darker, you will notice that this sunscreen does make your skin appear lighter.  It's sheer, and not whitish, but there is some colour simply due to the zinc oxide.  It's not a problem for me because I apply foundation on top anyway, and it blends foundation so well that the final effect is nice.  The sunscreen is sheer – but not transparent, and that's important to know.
Pick it up in doctor's offices and authorized retailers.