Viviscal is a supplement meant to help your hair grow and be more healthy. I've been taking it on and off for a year, and although I didn't notice a difference at first – I have fine, easily tangled hair that falls out a LOT – I was noticing my hair growth a couple of weeks ago, and noticed that the hair grown in the past year is just healthier-looking. The curl is more defined, less frizzy, and more shiny, as opposed to how I think it was before.
I know this sounds like anecdotal evidence and nothing concrete – it doesn't seem to me that my hair is growing faster or better, I still have to colour it every 3-4 weeks to keep up with the greys. But I haven't changed anything else. I try not to heat style it too much and let it air-dry as often as possible, and I've been doing that for years. It may not make for the cutest hair styles, but it keeps my normally dry hair very healthy.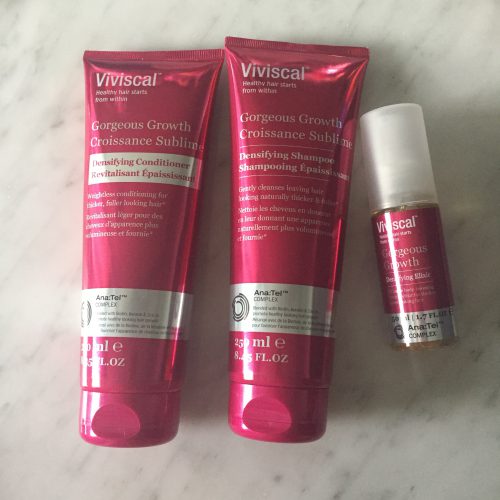 Anyway, Viviscal has now entered the haircare market with a shampoo, conditioner, and serum, all of which are formulated with the same ingredients as the supplements: biotin, keratin, and zinc. There's not a lot of evidence that applying these ingredients topically is as effective as ingesting them, but the line does promise to make hair look and feel thicker and more dense.
After using everything, I can see why. The shampoo is clear and lathers a lot – it really gets the gunk out of your hair and leaves it feeling nice and clean, which means that it'll look more full because it won't be weighed down. The conditioner is moisturizing but also light, and the Elixer is a serum that's maybe one of the lightest ones I've ever used. I like it and it leaves my hair frizz-free without weighing it down, which, again, would leave my hair looking and feeling full.
If you're looking for a line of products that can really volumize your hair, you should try this because it really does work.
$19.99 each for shampoo and conditioner, $29.99 for the Elixer.
Available at Shoppers Drug Mart & Jean Coutu.