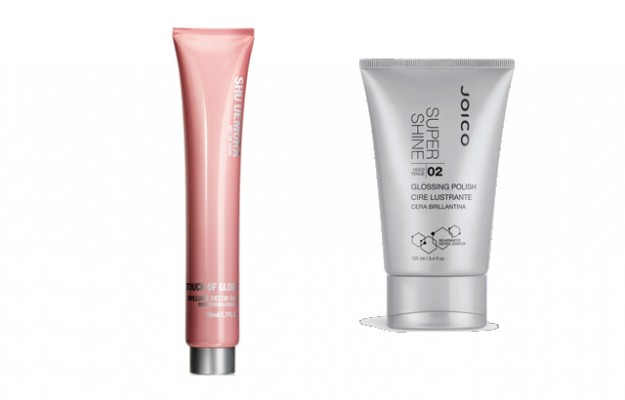 The latest in hair styling products is a new gel-type product that has virtually no stickiness and is super light in the hold department. As it happens, my favourite hair care brand, Shu Uemura has its version – Touch of Gloss Hair Wax but at $42 it's kind of pricy.
Joico (also a salon brand) has its own version – Super Shine Glossing Polish. The kicker is that the Joico version costs about $16.50.
Both are meant to be used on dry hair – either at the ends to add shine to the hair, or sparingly and meticulously applied to longer locks to create definition.
I used both my own way: I applied to almost dry hair, braided it, and left it to dry overnight. The effect was defined ringlets if I did the method on curly hair, and wavy beachy hair if I used the method on straight hair. In both cases, my hair was super shiny and healthy looking (even the ends!).
So which product did I like better?
Truth is that there isn't much of a difference between the two of them, but the Shu Uemura one wins by a hair. The Touch of Gloss Hair Wax is a little less stickier and so a little easier to apply. It also dries a little less crunchy than the Joico Glossing Polish, although I have to say that both products are not like typical gels and are definitely on the little to no crunchiness side.
However, I just loved how super shiny my hair looked after using the Shu Uemura Touch of Gloss Hair Wax, and so it's the one that I keep reaching for. Is it worth almost triple the price of the Joico product? Definitely not, but if you were going to pick up one product for making your hair look good this summer, that would be the one I'd splurge on.
You can get Shu Uemura's Touch of Gloss on their website, and Joico's Super Shine Glossing Polish is available at SpaBoutique.ca or check their website for a retailer near you.