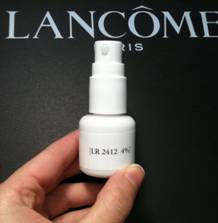 Lancome's new serum contains a molecule called LR 2412 which is supposed to be for every kind of skin and is supposed to have groundbreaking technology that's backed by 20 patents! Patents protect the company's work and mean that other brands can't use what Lancome's got. That means that we won't be seeing copycat serums like this one until the patents expire.
So what does LR 2412 do?
Well, apparently it works like Retinol but without the side effects.  It gives people more even and refined skin and takes care of uneven skin tone.
LR 2412 also has the following attributes:
-Can be used on all skin types event sensitive skin
-Can be used on all complexions (Asian, afro-American, Caucasian…)
-It is light stable
-Can be used around the eye contour
-Furthermore, the serum containing [LR 2412] does not only address wrinkles, but also pores and unevenness.
The cost is $100 for 30 mL… and guess what? You can't get your hands on it because it doesn't hit counters until mid-August.
But if you want to try it before hand, here is your chance. Just "Like" CanadianBeauty.com on Facebook, and post on our wall that you'd like to try this serum. We will be setting some lucky readers with the product and asking them to post their own reviews of it!
UPDATE: We will be giving out 5 luxurious lab samples of the serum.  Each one has enough product to use twice a day for 4 weeks, which is enough time to notice a difference in your skin!