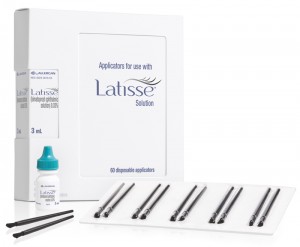 When I was working on a makeup counter, we used to have a serum that was called a lash conditioner; that is, something that moisturised your lashes and helped them to not fall out as easily. Did it work? Not really. I suppose if you had natural lovely, thick lashes, it would maybe enhance them a bit, but the majority of my clients were ladies that had thin, short or sparse lashes that wanted something that really worked, and would give them WOW lashes without falsies, and there are so, so many products out there that claim to make your eyelashes thicker, longer and more fluttery, but there's really only a few out there that really work.
Latisse is the first and only eyelash enhancement product to be FDA approved thus far.
Latisse's main purpose is to work by extending the lash cycle, and not only does it work, but it works WELL, better than anything else I've ever tried.  By extending the lash cycle, Latisse causes your lashes to NOT fall out – so they just keep on growing.  The proof is in the mirror, and if a lash does fall out, if you see it you can definitely notice how absolutely long and thick it is compared to how your lashes were before.
I didn't inherit my mother's lovely thick lashes and therefore have an appalling amount of time in my life applying false lashes, searching for fantastic mascaras and trying eyelash thickening serums.
Latisse is produced by Allergen, and contains Bimatoprost, which was originally used to treat Glaucoma and manage ocular pressure. A lovely side effect of this medication was that patients often began growing these fantastically long, thick eyelashes because as they were putting the medication into their eyes, some would get into their lashes.  Now, Latisse is applied almost like a liquid liner right at the base of your upper lashes for a minimum of eight weeks before you start to see results – officially, anyway.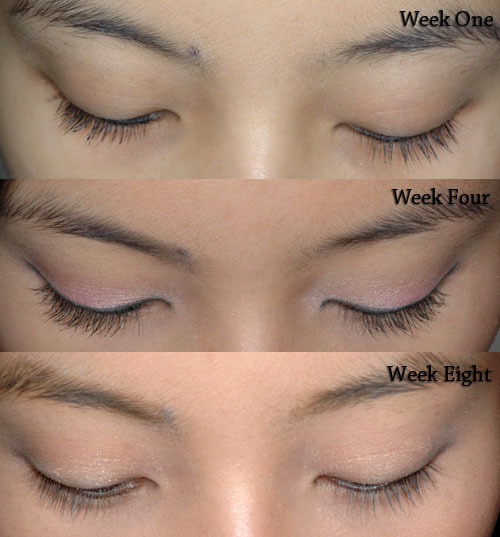 I started to see results way before eight weeks, at around the four week mark. I'd been using Revitalash, a Latisse competitor prior to that, but it's honestly not even comparable to Latisse. With the Latisse, you can see visible results. It's not a 'maybe they're longer?' sort of product. You can literally see the results and you will notice a difference within a few weeks.
I picked up my bottle from the fantastic Dr. John Arlette at the Total Skin Care Centrein Calgary, Alberta. He was happy to answer any questions I had as well, which was fantastic because I spent about an hour reading bad Latisse reviews before I went to see him.
What are potential side effects? There are of course, more serious side effects to any drug, and for Latisse, those include redness of the eye, hyperpigmentation where the product is applied and lash fallout and discoloration of eyes. These side effects are mostly due to an allergy to something in the product, which is why Latisse is a prescription only product. Your doctor should check out any weirdness that you notice, just in case.  Dr. Arlette also said that hyperpigmentation only happens if you get the product in your eye and if you apply as directed, you shouldn't see this side effect.
The most common side effect is irritation where Latisse is applied, and according to Dr. Arlette, this is very common and usually just fades after a while. But of course, have your doctor check it out just in case.
A lot of other reviews I read prior to using Latisse complained about lashes falling out at around the 6 month mark, leaving users with thinner, sparser lashes than before. I brought this up with Dr. Arlette as well, and he explained that Latisse does not permanently make your eyelashes longer; it simply extends your eyelash growth cycle (typically about 4-8 weeks). When users noticed their eyelashes falling out, it wasn't that the product was making them fall out, it was just that the lash had fallen out naturally at the end of the growth cycle.
That's the other thing: when you stop using Latisse, your eyelashes will slowly go back to their normal length and thickness. You sort of pick your poison in this case, Latisse will give you beautiful lashes, but only as long as you use it.
One bottle (roughly 2 months' supply) costs $150 at the Total Skin Care Centre, which isn't exactly thrifty, but the one bottle lasted me longer than eight weeks, and I wasn't using it sparingly. Since the end of the eight week period, I've sort of gotten lazy and I apply it probably every other night instead of every night now, which seems to be enough to maintain the results achieved.  If you're a klutz with the false lashes and want longer lashes without the work, then this is worth it.  I would especially recommend using it months before a wedding or special event because the effect is lovely, but I can't see myself using the product for the whole rest of my life.  That said, I would rather use this than any other lash serum that doesn't work anyway.
Have you tried Latisse?  Now that you know that it's safe and it works, are you interested in trying it?