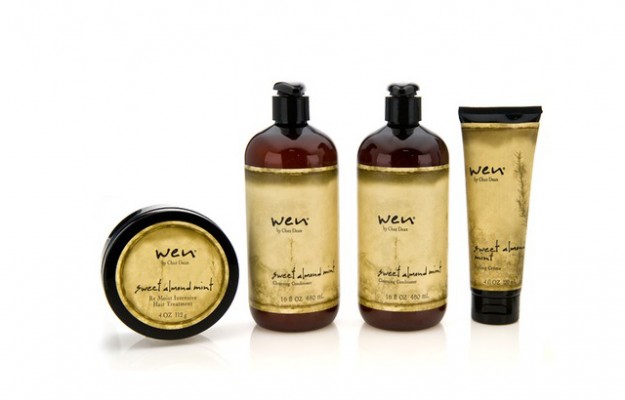 Have any of you watched Flipping Out? I love Bravo TV and for a while I was obsessed with that show – going through renovations on my own, I could relate to Jeff Lewis!
But then do you remember when they renovated the Chaz Dean salon? And remember Chaz Dean, who was a character himself?
Well, Chaz has a haircare line called Wen, which is something completely apart from everything else that's out there. The line is based on a conditioner-only system. There's no shampoo, just a conditioner that you use to actually clean your hair. The conditioner is specially formulated to clean, but it's super gentle because it has no detergent in it, not even the usual sulfates that conditioners usually have to help them wash clean.
You simply get in the shower, thoroughly wet your hair, apply conditioner throughout, and massage into the hair adding water as you go for a foaming effect. Rinse and repeat, if needed.
There's no need to follow up with a conditioner, because you haven't used a detergent to strip your hair of any oils.
I have to say that I thought that this was the perfect product for me, but after using it I just wasn't sure.
You see, the system is specifically designed for dry and damaged hair, because it prevents more damage from occurring through the cleansing process. It also heavily hydrates the hair and leaves it very moisturized.
That said, it doesn't give a nice squeaky clean like a normal shampoo and conditioner does, and I really missed that! My hair felt more moisturized, but the roots still felt kind of greasy. In fact, I like to wait a couple of days before I wash my hair, but when I used this I found that my hair was pretty oily after the first day and needed a washing. What I wanted all along was a thorough cleanse, but this product couldn't provide me with that, so even washing my hair wasn't as cleansing as I would have liked!
All said and done, I'm not sure that this process really matches my lifestyle and my hair. I like a nice thorough clean so that I can get a nice voluminous blow-out, and I couldn't achieve that effect with this product. If you've seen Chaz Dean on TV or in magazines, you can see how his hair has a "set" kind of look to it – it's clear that he uses his own products, because his hair doesn't seem that touchable and fresh.
If you wash your hair every day (and I certainly used to when I worked out a lot more), this is probably the perfect product for you – it won't strip your hair and will leave it clean enough for a day. But if you sweat a lot, especially in the summer, or you have oilier skin and hair, you might want to use this system only once in a while when you find that you're washing your hair more than usual.
I have not seen Wen at salons, but you can pick up the system through their website.