Skincare update!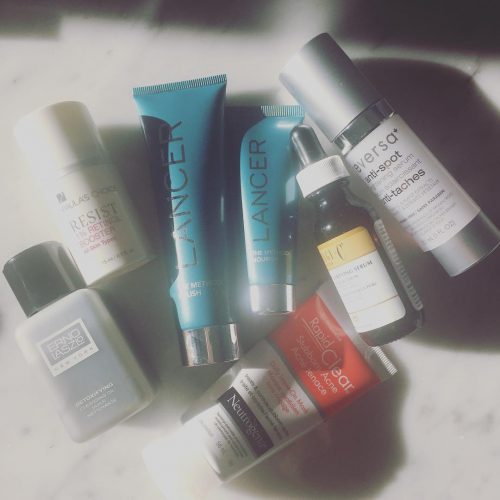 These are my favs right now and they're making my skin more clear and more glowy than it was before.
I've had a few breakouts so I've been using the @neutrogenacanada anti-acne mask everyday and it's been working. The mask can be a bit drying, so I only use it at nighttime, and put a moisturizer on top.  That seems to keep the intense dryness at bay but it still lets the mask work on the breakouts. I also feel as if my skin's gotten used to it so it's not too drying either.
The @drlancerrx products are newish and I'm loving the Polish.  It really gets everything off, but also is kind of stripping so it makes your skin dry and actually more prone to breakouts if you use it too much.  I use it every other day at the most, and actually just a couple of times a week is good.   I really like using it in the morning because my skin is already clean and then my moisturizer and treatment products will sink in a bit better.
The @ernolaszlonyc cleansing oil is great and more of a gel rather than an oil.  It washes away makeup and dirt but it's also gentle enough to use in the morning when your skin might not be as dirty.  At night time,  I use it with the bar of black soap and my skin feels really clean but not too dry so I'm sticking with that.  Also, this was a travel-sized duo and it's gotten over two months of use!
The @obagimedical vitamin c serum is blended with 4% HQ is for morning and it's helping fade dark spots.  I noticed a difference after a week of using it,  or the @reversa_canada Serum if I need something more hydrating.
I use the @paulaschoice retinol at night with a moisturizer on top if I'm not using the Neutrogena mask.  I love retinol because it seriously exfoliates the skin and quickly, but I find that I can't use this every day either.
Aside from the new @drlancerrx stuff, I've been using this combo for about a month and I'm seeing a difference.
What do you think?  I love products with a high percentage of active ingredients and I'll always use and buy those over anything else that seems fancy and trendy.