Here's a peek on what's in my bathroom right now.  I tried to streamline this a while ago when I was using Universkin serums, but slowly some of my other serums made their way back one at a time, and I couldn't help but leave them on my vanity because they're that good.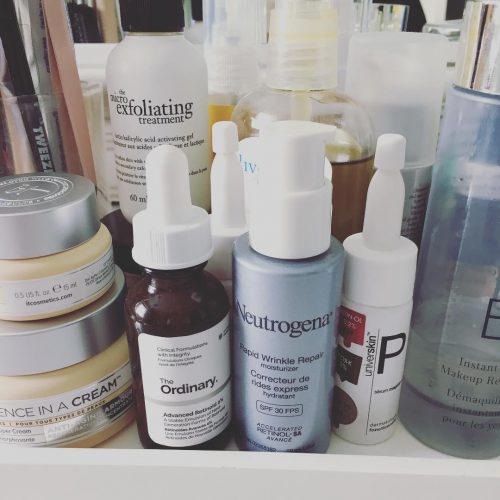 Universkin Serums: if you want to know more, watch my video.  It explains the process that I went through to get these made, including showing the dermatologist all my skincare, which he approved of but told me to get rid of nonetheless so that I could give Universkin a fair chance.  Two months after the fact, I still love the serums, but didn't find them potent enough so I'm going for a refill next week and will report back.

Philosophy Resurface The Microdelivery Dual-Phase Peel: see that bottle near the back that says Exfoliating in big letters?  That's part 2 of this peel.  You scrub your skin with crystals and then add this on top for extra exfoliation.  Ripped off by Goop and others, this is the original and it works to really refine your skin.  I put it away for a while, but brought it back out recently because I wanted something to really smooth out my skin again and it's working.  It's not really going to peel off your skin but it's going to make it way smoother instantly. Love it.

The Ordinary Advanced Retinoid 2%.  Honestly, I'm not finding this as strong or as effective as a regular 1% retinoid but it's gentle so I like that. It's a bit thicker than the Universkin serum, so I put it on top of that once that has absorbed, and my skin is slightly more moisturized and glowy in the morning.
Beautycounter Instant Makeup Remover.  This is what I use every night to take off my makeup.  I use a muslin and follow up with a foaming cleanser and it is all kinds of awesome.  

It Cosmetics Confidence collection: Honestly, after all my actives, my skin doesn't really need a cream, but I've added these to my routine to help brighten up my skin and it's working.  The cleanser for this collection is amazing, by the way, and I'll post more information soon.
Neutrogena Rapid Wrinkle Repair Moisturizer: Amazing because it absorbs quickly and has SPF in it, so I'm using this daily on my face, neck, and hands.  Love it and it's one of my favourites!
That's it!  If you have any questions, leave them below!