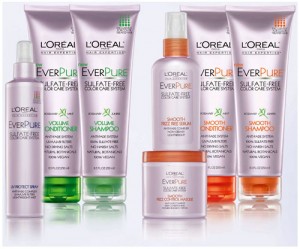 I can understand an oily-hair girl's dilemma. Most of the shampoos on the market target dry and damaged hair, and while that works well for most people, if you already have an oily scalp, the last thing you want to do is add more product to it.
So what's a girl to do?
If you have oily hair, my suggestion would be to use a shampoo that clarifies or promises to get rid of build-up. L'Oreal's Pure Sulfate-Free shampoo has a great one. Now, regardless of your scalp's condition, chances are that you don't want to strip your hair of moisture, so following the shampoo, use a conditioner but just on the ends of your hair. That way, your hair will maintain its body while being conditioned at the same time.
A word of warning: make sure that your hair isn't oily because you're over-cleaning it. Our body often overcompensates for the things we do to it, so try not to was your hair more than every other day.