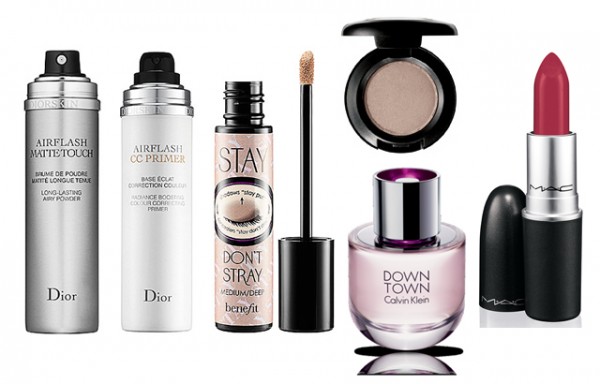 Truth be told, sometimes the only reason I look forward to an event is so that I can I can try a new makeup look.  After a week of testing out products and looks, I want to see it all come together.  So here's my guide to a flawless look for a night out.
Prime and Set:
For some reason, going out always means that my makeup is going to melt a little quicker, but I've figured out the trick to making it last longer: priming and setting foundation is essential, and these days I'm using Dior's new CC Primer and Airflash Matte Touch powder.  Both come in a spray can similar to Dior's Airflash foundation, and you can spray them directly on your face, or on a brush.  I prefer to use the primer directly on the skin, and then just dab it in with my foundation brush.  I use the brush to then apply foundation on top, and then spray the Airflash Matte Touch powder on a powder brush and apply just to my t-zone.  I've found that the combination of the two products really does help me completely set my makeup so that it lasts long into the night.
Contour:
Thanks to the Kardashians everyone wants their nose to look thinner, and their cheekbones to pop, and I'm definitely on the bandwagon!  I love contouring and the easiest way to do it is to apply concealer and bronzer in just the right places.
Apply concealer in a half-shade lighter than your foundation in an upside-down triangle shape underneath your eyes.  The point of the triangle should be at your nose, and the base should be the area under your eyes.  Also apply some to the centre of your forehead and down the bridge of your nose.  This will highlight the centre of your face making it look more luminous.  These days I'm partial to Benefit's Stay Don't Stray concealer in medium/deep.  It's just the right shade of brightener and it goes on creamy but doesn't crease once set!
Apply bronzer in the hollow of your cheekbones – I add a touch of a matte contouring eyeshadow (like MAC's Wedge) to darken the bronzer a bit and make it look like a real shadow.
Go Bright:
Finally, one of my must-have items for a night out is a nice bright lipstick.  I need something with lasting power, and I like a matte finish since it lasts longer and since you're already making an impact with the colour of the lippie.  MAC's Retro Matte collection has lots of winners in this sense, and you can't go wrong with the classic red of Ruby Woo.  If you're not a fan of red, you can now get the Retro Matte finish in bright pink, coral, and this season's bordeaux hue.
Smell Good:
Finally, the cherry on top of getting ready is adding fragrance.  Just enough that you smell good, and don't overwhelm.  Calvin Klein's new scent Downtown promises to be just the thing – it's a modern floral with notes of Italian cedar, bergamot and Tunisian neroli blended with the lushness of green pear and dewy watery plum. Gardenia petals, Texan cedarwood, Lao benzoin, and warm velvet musks are in the finish providing a warmth to the entire scent.