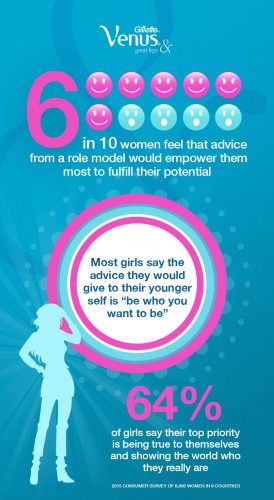 Nothing could be more timely than the #UseYourAnd campaign which was created by Gillette Venus to inspire women to define themselves in multi-dimensional ways.  #UseYourAnd means that you can define yourself using more than one adjective.  You can be creative and smart and sporty and….
It's so interesting because it comes in a time when we're getting a little sick of overly photoshopped selfies and a 2D constructed reality.  One just needs to readEssena O'Neill's story  to realize that even the 2D stars themselves are getting a little sick of promoting an image that is constructed entirely for mass consumption – it's just not real and it doesn't lead to a very healthy relationship with oneself.  In fact, after this story went viral today (it was picked up by almost every major newspaper or news site around the world) the Instagram star has deleted her entire account.
I can definitely relate.  Although I write about beauty all the time on my blog, I'm actually a mom of two and so my days are about so much more than making my foundation last long, and my contour routine.  I mean, I love products and I'm a consumer – it's just that I'm also really into sleep schedules, family and friends sales at the Gap, healthy eating, finding the time to work out, and the art of tidying up.  I definitely need to use MY "and" much more on the blog and that's definitely a goal of mine moving forward.
I know I'm not alone, and Gillette has the stats to prove it:
According to a new global study run by Gillette Venus, 8 in ten women (81.5%1) feel that showing the world who they truly are is an important goal*. 67 percent2 of them have experienced one-dimensional labels or stereotypes in their lives and nearly half (46 percent2) report feeling insecure when given a label.
If you're interested in joining the movement, you can visit The #UseYourAnd Diaries at gillettevenus.tumblr.com

for inspiration and ideas on how you can take a stand and #UseYourAnd.
I leave you now with this video: