So Shellac has been around for a while now, and over time, it's gained more and more popularity. Though it was available only at certain salons in the city, now it seems that every corner nail place offers Shellac for not much more money than a regular manicure. There's even places that offer just a Shellac top coat, even though the practice is not endorsed by the company that actually makes the product.
The unfortunate thing is that when something becomes overly popular, the quality and authenticity can often times go down. Think of Louis Vuitton – I'm sure we all know of someone who has a knock-off monogram bag or even a Guess bag that tries to act like an LV from afar. Despite that, there's no replacement for the real thing, and a real Shellac mani will stand the test of time.
But what exactly is Shellac, and how do you know whether you're getting a true Shellac manicure or not.
The first thing that you need to know about Shellac: it's a brand name from the parent company Creative Nail Design or CND for short. That means that when you go for a Shellac manicure, the bottles should have the small CND logos on them and should say Shellac on them. If it doesn't say Shellac, then it's not Shellac.
Shellac is a special kind of polish that needs a UV lamp to "cure" or dry. When it dries, the polish is completely hard and doesn't chip off the way that normal polish can (though there is a chance that you could get small chips). Though it is very long-lasting, unlike Gel nails, you don't need to file off any of the nail to get the polish put on, and it just applies on your regular nails. That means that there's less damage to the nails, which means that if you've avoided gel nails before but liked the look, you might be a good candidate for a Shellac manicure.
The entire process is similar to OPI's Axxium. The service has gotten to be so popular that there are at-home kits out too!
Shellac comes in just 42 colours – I say "just" because when you see 42 colours lined up, it really doesn't look like a lot. I have over 50 bottles of nail polish in my curated nail polish collection, so for a brand to put out just 42 shows how little the number is. If it's really Shellac, you too will be shocked by the lack of colour selection. If there seems to be many many colours to choose from – they're probably not real. Though the colour selection is small, each and every colour has been formulated to be the best. That means that each colour takes the same amount of time to dry and set, and will wear pretty much the same. If you don't find the colour that you like, don't be disheartened – a CND-trained esthetician can layer colours for you so that you can create your perfect colour.
The next thing you need to know is that for it to be a Shellac manicure, every single product used should be from CND. That means the base coat, the colour, and the top coat should all be CND. Even the lamps used for drying should say CND on them.
Speaking of lamps, CND uses UV lamps to dry your nail polish. This does not mean that you're going to get skin cancer from getting your manicure. The amount of UV that the lamps actually deliver in the time that you're putting your nails in them, is actually less than what you'd get driving around in your car with your hands on the steering wheel. You're spending about a total of 8-10 minutes per hand under the lamp and that's just not enough exposure to cause any significant skin damage. This has been verified by scientific studies – see for yourself.
Finally: the best way to preserve the quality of your nails and get the best manicure ever, is to go to someone who has been trained by CND. They'll have the best application technique and that can make the difference between a manicure that lasts a week or one that lasts much longer.
Here's an image of my Shellac mani in Masquerade. It is a deep shimmery red – almost a burgundy.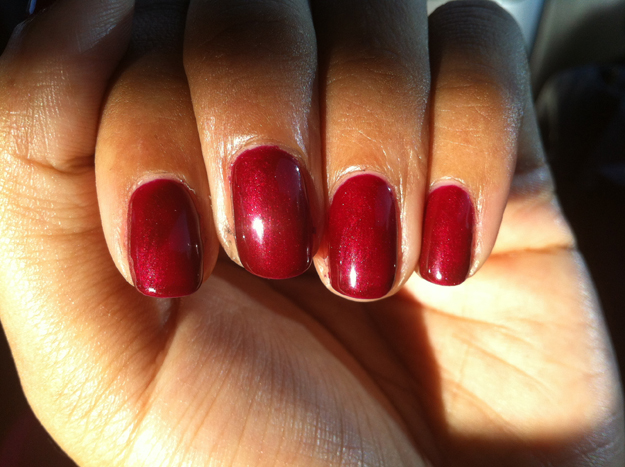 CND says that your manicure will last 14 days – possibly even longer. My experience is that that's true, but the nail growth is what will make you want to change your polish faster. Check out my mani after just 7 days. You can see that there's significant growth, but thankfully it's not getting on my nerves yet. I haven't had any chips, and the polish is still as shiny as the day it was applied.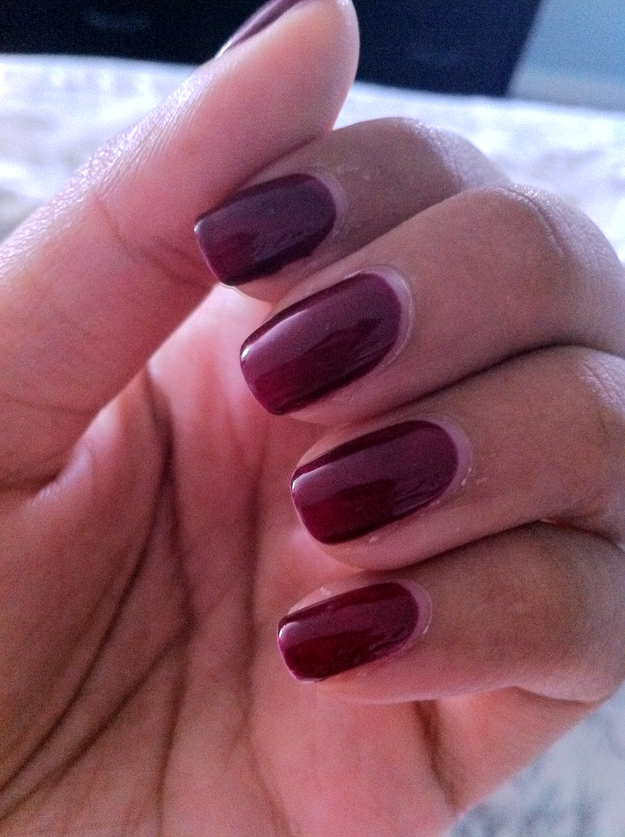 What I've noticed about these manicures is that the nail growth actually isn't even noticeable from far away, so chances are that you will be able to wear your manicure for the 2 weeks. That said, if you're a frequent polish-changer like me, and like to be on to the next before the week's over, you'll just get tired of your Shellac mani and will be looking forward to getting it taken off. Ah well.
Guess what the best part about a Shellac mani is? You CAN take it off at home!
All you need is aluminum foil, acetone, and cotton pads. Soak the pads in the acetone and cover with foil for 10 minutes, and your polish should peel off. This is actually more difficult than it seems and everyone I've spoken to says that it doesn't come off that easily. I, personally, would recommend just going back to the salon to get the polish taken off, especially sicne the entire process shouldn't last more than 10 minutes. The good news is that CND has come out with a new Shellac remover that takes the polish off in 8 minutes instead of 10, so if that makes any difference, head to a professional to get the mani removed! Chances are that you'll save your nails in the process!
Before I got my mani removed there was a ton of growth, but the polish itself looks great. The Shellac was applied so thinly that I wasn't tempted to chip it off myself the way that I usually am, although I did find that it was coming off at the edges and I would get caught in my hair.
After the removal – which literally took no more than 15 minutes – my nails looked just fine. There was no chipping of the nail or any denting in the nail bed, because I had waited to get the polish taken off professionally. If I hadn't done that, the nails would have been damaged. The removal means that the polish literally falls off and just needed a light rubbing to flake off completely.
And before I'm off, some more good news: CND has come out with 6 new colours of Shellac this fall, and they are right on trend with beautiful jewel tones.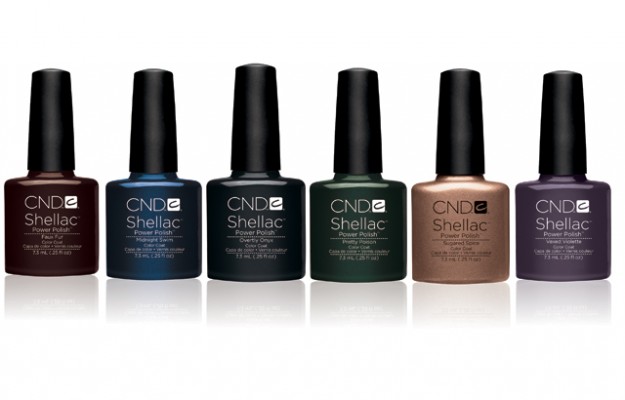 The colours are: Faux Fur, Midnight Swim, Overtly Onyx, Pretty Poison, Sugared Spice, and Vexed Violette. If I were you, I'd make sure that my salon had these colours before going in for a mani, because they'll be what you want to wear this fall.
A Shellac manicure costs anywhere from $25 to $45 and you can visit cnd.com to find a salon near you. If you know of a salon in your neighbourhood that is advertising Shellac mani's but isn't on the CND site, I wouldn't visit it.