I'm taking a break from the gel eyeliner because the thought of cleaning a brush every day to get that nice crisp line just doesn't appeal to me at the moment.  So for now, I'm diving into my favourite black liquid liners and using those to create the little flick on the outside corner of my eye.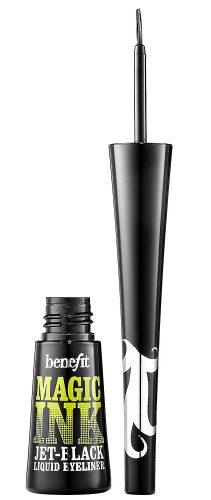 The eyeliner I love the most is Benefit's Magic Ink Liquid eyeliner ($24).  It goes on very wet with a fine brush that's a little flat so you can make a bit of a thicker line.  I start in the middle of the eye and go out, and then go back to the middle (without re-dipping into the pot) and go back towards the inside of the eye.  It makes a line so that the inside is very thin, the middle part is thicker and the outside flick goes up just so because there's not too much product on the brush.  
The liquid kind of dries like a plastic but that means that it just stays on your lid and is resistant to even oil, most of the time.  Add water and a gentle smudge with your fingers and it kind of peels off.  The black is super-black and slightly shiny – just so that it adds something extra… Love it and the formula!  No smudging is definitely key.
I've gone through about 3 bottles of this eyeliner, that's how amazing it is.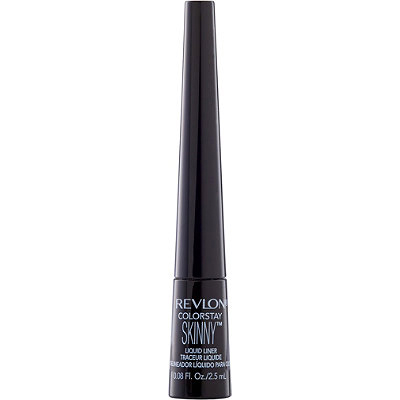 Another oldie but goodie is the Revlon Colorstay Skinny Liquid eyeliner.  It's in the Colorstay line so you know it's definitely going to last all day long.  The applicator is more of a fine spongy nib instead of a brush, but it does the job just as well.  You can really get close to the lash line with this one and make a very thin line or a thicker one.  It's cheaper, since it's a drugstore product, but it works well too.  
What's your favourite product that you keep coming back to?