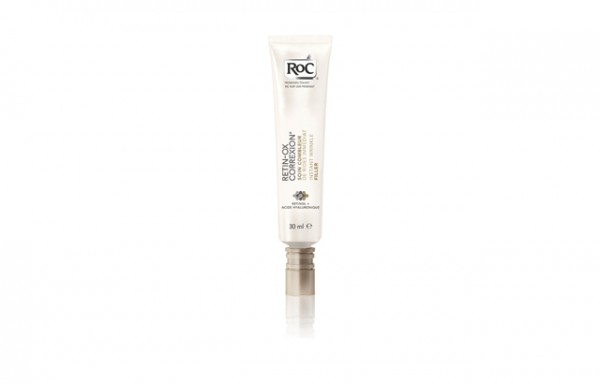 So it seems that in the past year I've accumulated a few tiny wrinkles around my eyes and I'm pretty sure they weren't there before. Those, coupled with the laugh lines that have always been there inspired me to use a wrinkle filler.
I mean, have you guys seen the real housewives of OC? Doesn't Tamra seem to have the most smooth makeup? Notice that I didn't say that she has the most smooth skin. I think that it's pretty obvious at her age that either she has had work done to make her skin look that smooth or there's some exceptional priming going on.
It was with that in mind that I tried a wrinkle filler: RoC Retin-Ox Correxion Instant Wrinkle Filler. Made with a combination of retinol and hyaluronic acid, I knew that this wrinkle filler would plump up the skin temporarily and provide some defence against wrinkles and dry skin.
Well, three days in and I have to say I'm a believer. This wrinkle filler doesn't necessarily make all my tiny lines disappear but it has definitely given me smoother skin.
The wrinkle filler goes on just like a regular lotion. It doesn't feel like primer and isn't full of silicones. It is very hydrating and the moisture is a burst of freshness on the skin. My foundation went on smoothly afterwards, and what's more is that it seemed to set and stay put throughout the day. What's more is that there wasn't even any creasing of my foundation even though there was that new layer of moisturizer underneath.
Want more proof? In a clinical evaluation of 43 women, 100% found that their skin looked smoother 5 minutes after application, so even if the results are temporary, they are there.
Although I use this in the morning before my foundation, you could use it at night too because at the end of the day it's a skincare product. I find that it works better than primer for my skin (primer always seems to make me break out), and if you're looking for an alternative to primer to make your skin look better and your makeup last longer, then this is a good option.
Available in drugstores across Canada. $58 for 30ml.