Honestly, I'm going to come out and say that my favourite Bumble and Bumble Finishing Spray is their Hairdresser's Invisible Oil Dry Oil Finishing Spray ($45) which is all the way on the left.  It's got no hold, but it just seems to laminate your hair and make it shiny, and if you've straightened or curled your hair, this seems to make it last.  But it's not a hairspray.  It's not crunchy at all, and just makes your hair look better.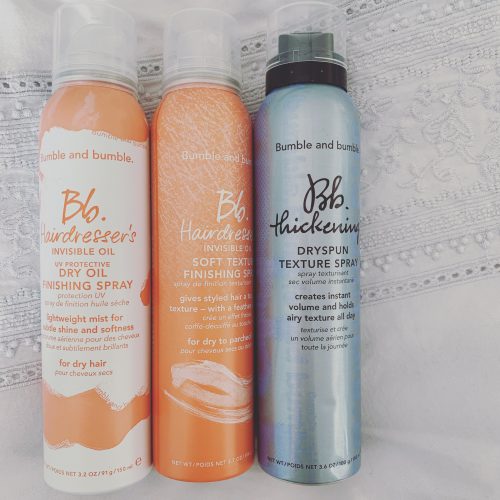 The Dryspun Texture Spray ($41) is my next favourite and is great if you want to add some grit to your style.  It adds airyness without hold, and is dry without being a dry shampoo.  It's a really cool spray, and when you put it into your hair, the effect of it lasts and lasts. which is great.
The Soft Texture Finishing Spray ($42) is kind of in between the first two.  It adds a bit of texture but not much grit.  It doesn't mess up your style but just kinds of blows it apart gently.  It doesn't coat or laminate your hair like the Dry Oil Finishing Spray does, but it does have some oils in it and it has the same great Hairdresser's Invisible Oil vanilla/amber scent.  It also has a tiny bit of hold and soft powders that add the texture to your hair.
All of them are microfine, so you can use a little or a lot and they won't weigh your hair down.  Honestly, I thought I wasn't using enough, and then I saw how much my stylist used on me, and she used a lot, and so that's when I started spraying spraying spraying until I was really happy with the final look that I got.  All of them are amazing texture sprays that don't make your hair crunchy but can help you get a tousled beachy look.
Available at Sephora, salons, and Nordstrom.