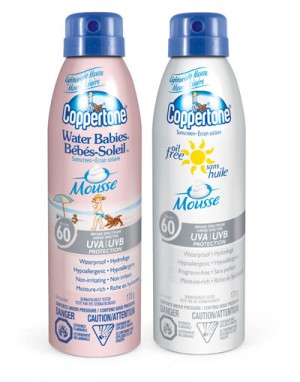 When I was on Breakfast Television, I talked about Coppertone Mousse Sunscreen as my pick from the drugstore.  It made my pick because it has a texture that I think most people would like, and if you like how it feels on the skin, then you're more likely to wear it, right?
Coppertone's Oil Free Mousse Sunscreen comes out exactly like hair mousse, except it's for your body.  It has a light airy texture that is kind of white so that you can see where you are applying it.  The foam is easy to apply and dries to a silky satiny finish, and though it is oil free, it is not matte.  The foam offers broad spectrum protection and comes in a SPF 60 version which would be my pick so that you get really long lasting protection!
The sunscreen also comes in a Waterbabies version for the kids, so you can stock up on protection for the whole family.
As an aside, though this is for the body, I did try using it on my face, but found it to be a little difficult because the foam deflated before I had a chance to get it into the nooks and crannies of my face.  Thus, this is best for the body.
You can pick up Coppertone Mousse at your local drugstore for $10.99.