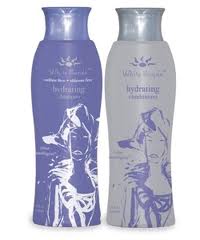 It always surprises me when I find Vegan products, because I wasn't aware that there were/are animal ingredients in regular shampoos and conditioners.  Nevertheless, intrepid beauty blogger that I am, I really wanted to try White Sands Shampoo and Conditioner. 
The reason is White Sands' little marketing blurb which I'll let you read for yourself:
"White Sands products use cutting-edge science combined with natural botanicals to make each formula dynamic and unique. Our products use ingredients to create heat shields, which, in turn, behave like a second skin. As this shield protects your hair from UV Rays and thermal stress, hair is finally allowed to breathe. White Sands products even supply ultimate protection with a moisture balance offering lasting hold and humidity resistance."
I've tried lots of shampoos and conditioners that say they will combat humidity with varying degrees of success, but this was a new one.  Botanicals that could do the job of silicones, essentially, was new to me.
So, I've been using White Sands shampoo and conditioner regularly for the past little while.  The shampoo, though supposedly hydrating, is clear, which is unlike most hydrating shampoos.  It doesn't build up but it does leave hair feeling curiously slippery, which leads me to believe that it is coating the hair in something.
The conditioner is lovely.  Thick and rich, and easy to use.  It leaves hair super shiny yet not limp or over coated in conditioner.
After a few weeks of use, I have to say that I am impressed, but mostly because these products passed a huge test yesterday.  I was out walking around in -20 degree (celcius) weather, and of course had to wear a hat, a scarf, and generally be not too nice to my hair in the interest of keeping warm.  When I got back inside, I ran to the mirror to see if my hair was all tangled, frizzy, or generally wild from being mistreated.  Well ladies, my hair looked perfect, the same as it did in the morning, and not worst than before.  I just added some mousse and I was good to go.
You can purchase White Sands products online from WhiteSandsProducts.com.  The shampoo retails for $12 and the conditioner retails for $15.