…and why you might want to switch too…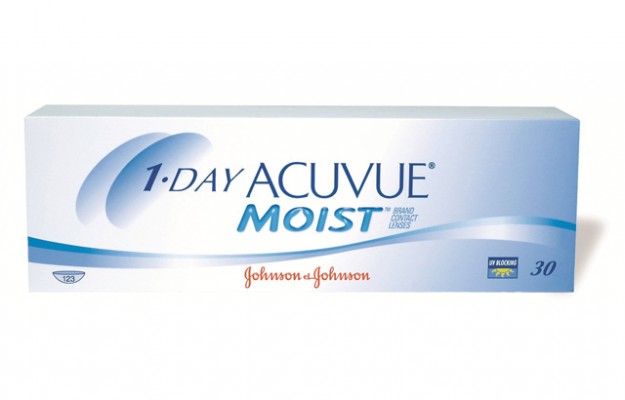 This fall, I had the chance to try out Acuvue daily contact lenses, called 1-Day Moist, thanks to a blogger program by Johnson and Johnson.  I should actually begin by saying that I've worn contact lenses for almost 15 years now (a long time!), and never really had a problem with them.  I used to wear contacts that were meant to last a year (or 6 months at least), and then switched to monthlies when they came out, with the idea that changing your contacts often means that they're cleaner and better for the health of your eyes.
For some reason, none of my eye doctors ever suggested dailies for me.  Maybe it was because I never had a problem with my contacts, my eyes were healthy, I kept my contacts clean, or because I had astigmatism.  Whatever the case, doctors never offered the option, and I never asked for it.  Plus, dailies are more expensive than monthlies (or yearlies for that matter), and when you wear contacts every day, the cost does add up.
Anyway, I have a lot of friends who swear by dailies.  In cold-weather, the air tends to be super dry, and dailies seem to be better at keeping your eyes hydrated… that and Blink eye drops, but I digress.
So I tried the dailies – I jumped at the chance to try them – and I actually tried weeklies too.  And in the end, I liked the dailies better, because, you know, if you're changing the frequency of replacing your contacts, may as well go for the daily change.  And I liked the dailies a LOT.  I liked just being able to throw them out at the end of the day, the fresh feeling in my eyes every morning when I put in a new pair, and the fact that I basically didn't need a contact case or solution cluttering up my bathroom vanity anymore. And I also liked that the whites of my eyes looked whiter… I looked more awake and fresh, and that makes the dailies worth it for me.
To follow up, I asked Dr. Vishakha Thakrar, OD of Johnson & Johnson Vision Care Inc. some pressing questions – and maybe the answers will help you find out whether dailies are for you.  Of course, consult your eye care specialist if you are interested in switching your contact lenses!
Q: What are some of the main differences between the daily lenses and those that are monthly?
A:  Daily disposable contact lenses are one of the healthiest contact lens options available.  They are designed to be worn for one day and removed prior to sleeping.  They are convenient because there is no need to clean or store the lenses. By putting in a clean, fresh lens every day, daily disposable day contact lenses, such as 1-DAY ACUVUE® MOIST®, minimize the potential for accumulation of allergens and irritants that can often accumulate with repeated use of the same pair of lenses.  Frequent replacement contact lenses are usually taken out every night and cleaned, and are replaced with a new pair as directed by your eye care professional.
Q: What are signs of UV damage to the eye?  
A: The effects of UV radiation to the eyes are cumulative and irreversible. In the short-term, UV radiation can cause an effect that is the equivalent to a sunburn to the front of eyes. Most of the UV-related changes that occur in the eyes are long-term changes. For example, cataracts may not manifest for years, at which point the damage is already done. It is estimated that about one-third of all cataracts that develop are due to long-term UV exposure.
You also may see fine lines and wrinkles around the eye and changes to the surface of the eye. Instead of seeing a nice, white appearance, the eyes may show more redness or other discolorations. Benign growths may also occur due to long-term UV exposure.
When it comes to helping to protect your eyes from the sun, look for wrap-around sunglasses that absorb 100 percent of both UVB and UVA rays.  For those who need vision correction, I strongly recommend UV-blocking contact lenses because they provide an important measure of additional protection. All ACUVUE® Brand Contact Lenses offer effective UV-blocking. Among contact lens brands, ACUVUE® OASYS® Brand Contact Lenses offers the highest level of UV blocking available, blocking at least 90 percent of UV-A rays and 99 percent of UV-B rays that reach the lens. For those who prefer the option of a daily disposable contact lens, 1-DAY ACUVUE® MOIST® Brand Contact Lenses block on average 82 percent of UVA and 97 percent of UVB rays.  On average, contact lenses without UV-blocking capability allow 90 percent of UVA radiation and 70 percent of UVB radiation to pass through the lenses to your eyes.  It is important to note that although UV-blocking contact lenses provide important added protection, they should not be viewed as a stand-alone solution. Maximum protection can be attained with UV-blocking contact lenses worn in conjunction with high-quality UV-blocking sunglasses and a wide-brimmed hat.
Q: What kind of improvement in their eyes will contact lens wearers possibly see after switching to daily or bi-weekly lenses?
A: I find, clinically, that when patients throw their lenses away more often, their lenses remain cleaner on a day to day basis.  Clean lenses reduce the chance of redness and irritation, and allows for more comfortable day to day wear.
Q: What could be possible signs that someone should look into replacing their lens more frequently?
A:  There are many reasons why a patient can benefit from daily disposable lenses.  Because the lens is being thrown out on a daily basis, patients can experience a fresh, clean lens going in their eyes every day.  Most contact lens wearers experience some discomfort as they wear contact lenses longer.  Switching to daily disposable lenses can potentially provide more comfort to them over the course of wear.  From a practitioner standpoint, if patients demonstrate dryness, frequently dirty lenses, frustration with cleaning lenses, or have allergies, I strongly recommend daily disposables.
Q: Who is the right candidate for daily lenses?
A: Daily disposable lenses are great for teens, allergy sufferers and people on-the-go. Basically, everyone can benefit from daily disposable contact lenses. With no need for lens cases or solution, daily disposable lenses offer comfort and convenience while providing wearers with the freshest lens possible. They are also great for part-time wear.  For example, some people may wear them for sports or social activities.