#SorryNotSorry for not being around… I've been living life, and using a ton of sunscreen as I've been out and about, both on myself and on my kids.  
So I have to vent about sunscreen that's meant just for kids.  Has anyone else found that it's usually goopy, thick and very difficult to blend into their skin?  And it has a noticeable white cast, which means that my kids don't end up looking that great in pictures.  I mean, they're protected from the sun, yes, but what about the memories.
That said, I'm keeping their kids' sunscreens on hand and they get coated in them daily.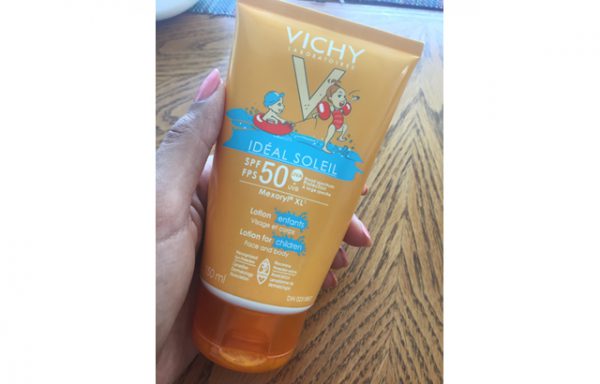 Mainly, my go-to right now is the Vichy Ideal Soleil SPF 50 for kids.  It's for face and body, and even has a "Recognized Sun Protection" seal from the Canadian Dermatology Association.  The Mexoryl XL keeps the ingredients stable longer.
It's always a toss-up in my house for who's going to apply the sunscreen.  It makes your hands all sticky and it's hard to smooth on, but it gets the job done and you can see exactly where you've applied it and where you haven't.  
Available online or at drugstores. $29.95.