How would you like to have a whole new skincare routine absolutely for FREE?
Summer's almost over and fall is the season to change or reinvent yourself.  For many of us, myself included, that means a change-up in our skincare routine, and Vichy's Normaderm line might be the way to go for you.
As the name might suggest, Normaderm is meant to normalize your skin.  That means that it'll make it smoother, less shiny, and more clear.  The system takes care of clogged pores and breakouts, without weakening the skin.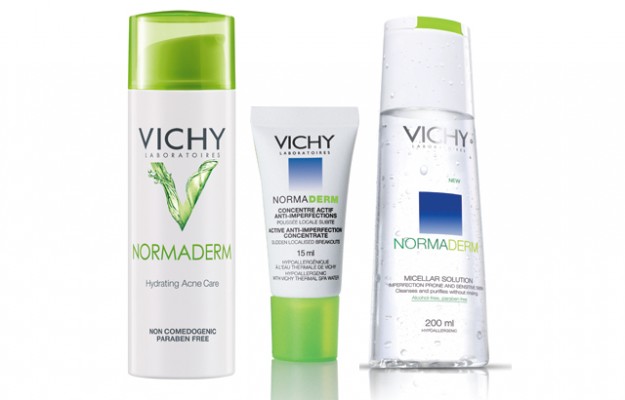 You could win the following set:
Vichy Normaderm Hydrating Acne Care ($29.95)
Vichy Normaderm Anti-Imperfection Concentrate ($21) 
Vichy Micellar Solution for Face and Eyes ($19.95)
I've tried all of the above, and they are excellent products for taking care of problematic skin.  The Hydrating Acne Care is awesome because it contains Salicylic, Glycolic and lipo-hydroxy acids, but also manages to hydrate the skin.  The Anti-Imperfection Concentrate is perfect for soothing breakouts, and the Micellar Solution for Face and Eyes, is a great makeup remover or a skin refresher.
The entire giveaway has a value of $70, and you could win it by sharing the image I've put on the Facebook page of the entire system on your Facebook page. Make sure you also "Like" CanadianBeauty.com on Facebook.  I'll pick the winner in a week.
Oh, and I reviewed Vichy's Normaderm Tri-active Mask earlier this summer, so check out that review too. Vichy is available exclusively in drugstores and pharmacies across Canada