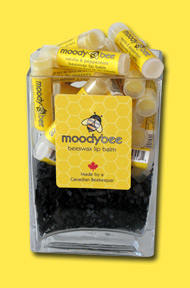 So Moody Bee, an amazing lip balm company that we fell in love with last year, is giving away some of their lip balm!
The summer's coming to an end, and we know our lips are parched from all that sun, and that's why we want to share our lip quencher with you.
We will be giving out 5 lip balms and one of them could go to you.
All you have to do is head to our Facebook page, Like Us, and tell us about a fun activity you did this summer on our wall. A wedding? Relaxing at home? Lots of patio time? Whatever it is, we want to hear about it and next week we will pick 5 winners.
This contest is only open to Canadian residents.