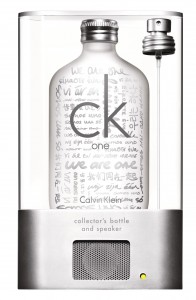 Does everyone remember CK One as well as I do? When the fragrance first came out, everyone in my junior high class wore it, and had to have it. It got the point that you couldn't tell whether I was wearing it or not, because the whole classroom smelled of it anyway.
Anyways, CK One is poised to make a comeback, and they're making it in the form of a Collector's Edition Bottle. This new CK One bottle comes with a set of removable MP3 Speakers.  The bottle is decorated with the tagline "we are one" in many different languages.
This, and another bottle of CK Be are only going to be available at Shopper's Drug Mart here in Canada, but you can get one too!
Want one for yourself?
Why don't you enter our contest?
Just enter your name and email address and you're good to go! You may also be interested in checking out the CK One Facebook page!
Please note that this contest is only open to Canadian residents.