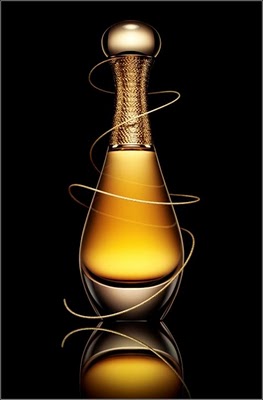 J'Adore is a best-selling Dior scent and was originally introduced in 1999.
This year, Dior is launching J'Adore L'Or which is a more intense and almost stronger version of the original although both are Eau de Parfums.  Dior is calling this an Essence de Parfum, to show that they've taken the heart of the original and used that to create this version.
I love floral scents, and I was so happy to smell the intense rose note of J'Adore L'Or.  It is one that is present from the very beginning to the end of the scent.  At first the opening notes of rose and jasmine are quite fresh and garden-like, but as they dry down, the scent becomes sweeter and more oriental.  They mix with tonka bean and vanilla  which lend a gourmand aspect, and remind one of Turkish Delight in a way.  Then you get a layer or patchouli and amber which give the scent an intense and long-lasting finish that's interesting and complex.
What I love about this scent is how it develops as I wear it and though it gets sweet, it's not at all cloying or sticky.  The sweetness doesn't stand out on its own and just blends with the rest of the scent so that everything smells so wonderful together.  I also love that this lasts a very long time on my skin.  At the end of the day, I still get whiffs of it without having to bring my arm up to my nose.
This is probably one of the best scents I've smelled in so long, and it's got a  place on my vanity.  A nice touch was that, as with all things Dior, there was an element of luxury when opening the box that this came in – a tiny card (in an envelope no less) proclaimed that the juice had been made from extracts from Dior's fields in Grasse and that the bottle had been filled by hand.  I've paid way more for niche scents and never had something that personal come in the box, so this scent was a pleasure beginning to end.