If you've read about my experience with using Retinol, then you know that I suffered from intensely dry skin for a couple of weeks after I started using it.  My saviour was Neutrogena's Deep Moisture Day Cream which is perfect to use if you're exfoliating because it also has SPF 20 in it.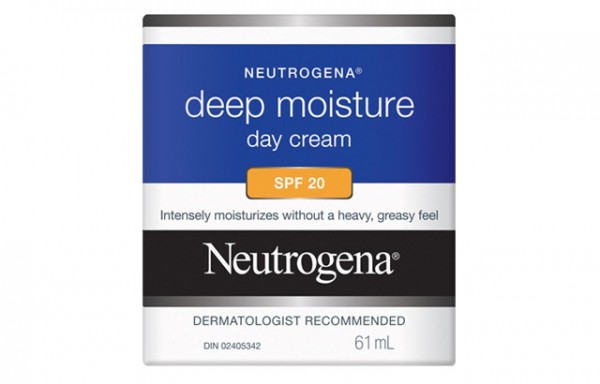 The Deep Moisture Day Cream is made for dry skin.  It has a very emollient feel and finish which completely takes away all dry spots.  If you have flaking skin, this will make it disappear.  Although it feels satiny to the touch, the look is a little greasy which I don't mind for weekends, but I do powder down before I go out.
The cream is formulated with Glycerine which draws moisture to the skin – the formula is one that is perfect for applying makeup on top of or for mixing with foundation to make your own tinted moisturizer.  It also has shea butter and anti-oxidants in it which help keep skin looking hydrated, and there's a slight bit of shimmer that helps skin look even more glowing – something that I like.  My skin just looks healthy when I use this cream – but because of the sheen it does also look very well moisturized.
I've always had oily skin so this is the first time I've used something deeply mositurizing, but it worked so well that it's worth keeping in my arsenal of skincare products.