You winterize your car at this time of year to get ready for the harsh weather, so why not the rest of your life as well. Here are the best products to keep on hand this winter.  They keep dry skin at bay and help you look your best.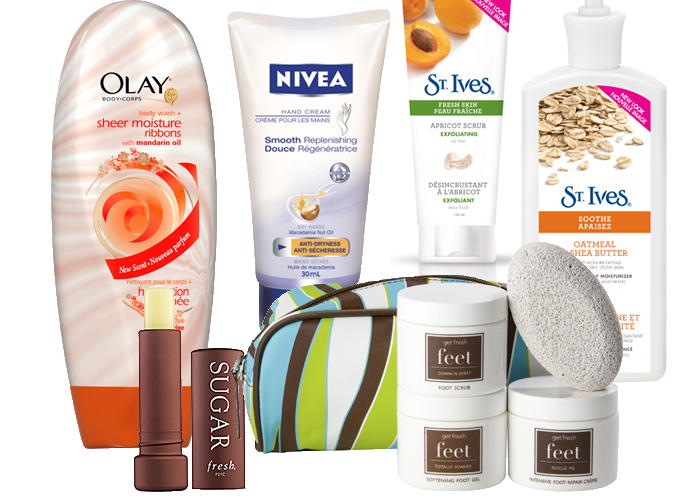 Nivea Smooth Replenishing Hand Cream. Nivea's always been the best at providing straight-forward moisturizing without a lot of fuss, and now they have a hand cream that does precisely the same thing.  This hand cream absorbs quickly and works for 24 hours to offer hand protection.  It even has that lovely iconic Nivea scent.
St. Ives Apricot Scrub. I always have this awesome scrub on hand and I like it because it works on the body and the face.  Use it to get rid of dry skin so that your moisturizer can penetrate deeper.
St. Ives Oatmeal and Shea Butter Body Lotion. Follow up with this lotion – it's rich and creamy, smells like vanilla, and absorbs quickly without being sticky.  Around my house, this finishes so fast because everyone loves rubbing it into their hands and elbows.
Olay Mandarin Oil Body Wash.  My all-time favourite body is Olay Sheer Moisture Ribbons, and this year, there's a new version of the body wash.  It's one that has mandarin oil in it and smells like juicy oranges.  The moisture or body butter ribbons really do moisturize to the extent that you don't have to use moisturizer after using this in the shower and the fresh mandarin scent improves your mood and wakes you up.
Get Fresh's Relief for Tattered Tootsies Set. This set has everything you need to give yourself a pedicure at home: a pumice stone to scrub with, a foot soak, a foot scrub, and an intensive repair cream, all in a cute bag that you can keep and reuse.
Fresh Sugar Lip Balm. I usually don't need lip balm because I'm constantly applying a gloss or a lipstick, but I'm finding this winter my lips are drier than usual.  I got the Fresh Sugar Lip Balm from Holt Renfrew, and it's been a life saver!