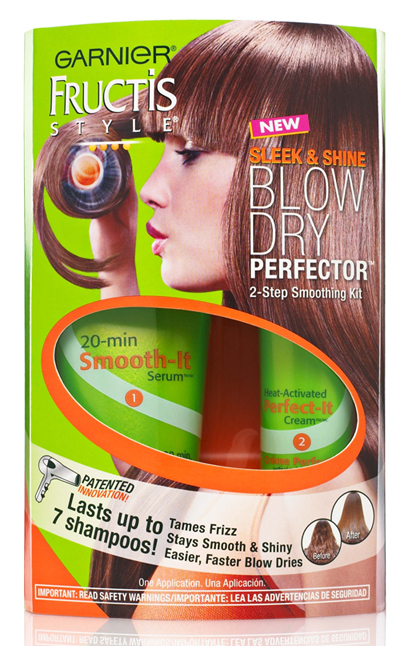 I was kind of ambivalent about trying the Garnier Fructis Blow Dry Perfector Kit and if you had the package in hand, you would be too.  It warns people with any kind of damaged hair not to use the kit – pretty much everyone I know has a split end or 2, so I wasn't sure how serious I was supposed to take the warning.  If everyone followed it, then nobody would be using the kit, right?
In any case, my hair wasn't significantly damaged, so I decided to go ahead and use the kit.  I have really curly hair and taking care of it can be time consuming so I wanted something that would make it less frizzy and easier to take care of.
I should have known that any kit you use at home to do something so major isn't going to be very effective or easy to use.
The kit has 2 steps: a product you use in the shower after soaking your hair with water, and then a serum you apply afterwards before blow-drying and straightening your hair.  It was the shower product that I really had a problem with.  It smelled horrendously bad!  It smelled kind of like garbage on a hot sunny day, and I had a hard time leaving it in my hair for the required 20 minutes.  The worst part was that once I washed my hair, I could still smell the product there, and it wasn't until the next time I shampooed that I was really rid of the product's horrible smell.
Finally, I was done step 1 and I went on to step 2.  I put the serum into my hair and brushed my hair out.  It was super tangled and stiff thanks to the smelly product I had just used for step 1.  After brushing it out, I proceeded to blow dry my hair which was a difficult feat because I could barely comb through my hair with my round brush.  It took me way longer than usual to blow dry my hair and even then it didn't look great.  The kit does recommend then using a flat iron, which I did.
Overall, yes, the kit works and your hair is less frizzy.  It still got curly every time I washed it, but I found that my curls just dried more quickly and were less frizzy when they were done drying.  The results weren't the time spend blow-drying my hair, and I never wanted to use the kit again because the product smelled so vile.  I would suggest using this kit if you really have a lot of frizz that can't be tamed with a simple blowout.  If you think that you can stand the smell, or maybe if you don't have a great sense of smell to begin with, you won't mind using the kit, but I would never use it again or recommend it to anyone else.