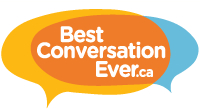 So last week, I posted about Wind Mobile's Best Conversation Ever contest, and a reader posted about her kids' entry into the contest!  They made a video about wanting to meet Jim Carrey – it's definitely the cutest entry I've seen, so check it out: http://bestconversationever.ca/entry/3896251
Remember, that creativity counts for 60% of the judging process, so the Jim Carrey impression goes a long way!  Awesome job, kids!
Did you enter the contest?  Do you have an entry you can share?  Let me know in the comments!