We are done with Valentine's Day, and I actually didn't think that this year it was so bad!  I ate some chocolate, went on a dinner for Family Day, and got through it without feeling queasy at all.
But, then I saw Jessica Biel's dress at the Valentine's Day premiere… all I can say is what was she thinking?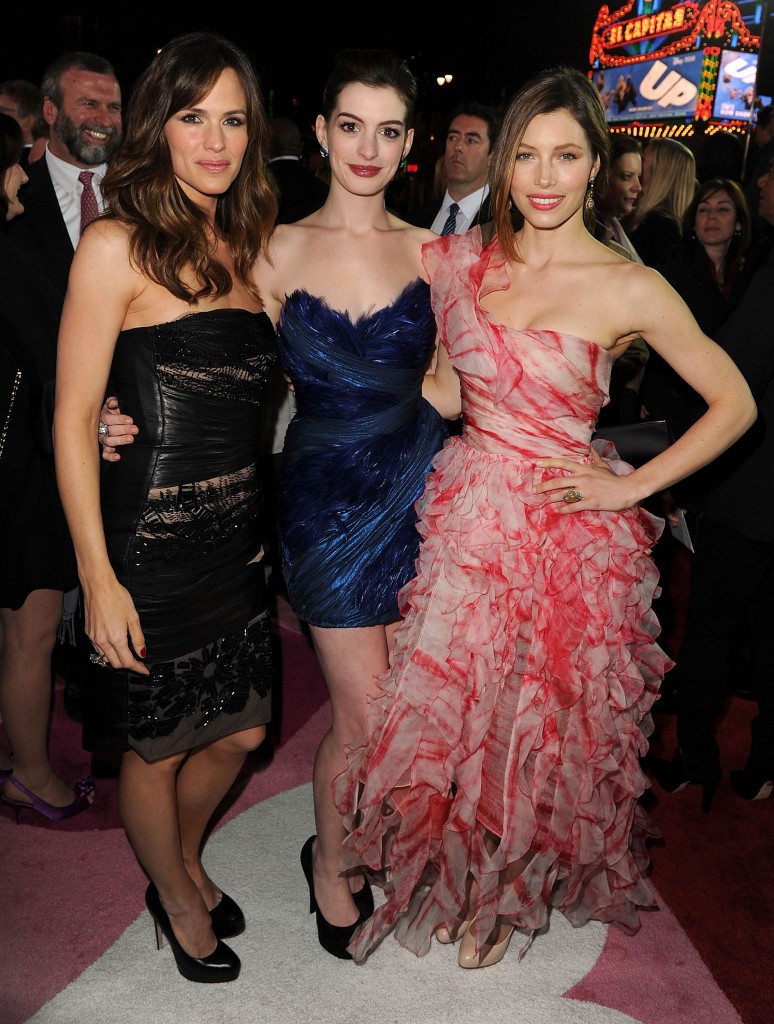 I have this thing that I do with my friends: when we're going to an event together, we make sure to ask each other what we should wear.  That way one of us isn't wearing a dress when everyone else is wearing pants, and generally we dress up or down together depending on our moods.
That's clearly what Jessica Biel should have done – she should have called Anne Hathaway or Jennifer Garner and asked them what they were going to wear, so she wouldn't end up looking like such a prom queen.  Seriously, this dress might be nice under other circumstances, but it does not look good here at all.  I'm also hating the ugly peach shoes.  What gives?  This entire look is a huge misstep.
I think Jennifer Garner looks the best here – her dress is fancy but edgy which is perfect for L.A. and this premiere, which is a rom-com after-all.  The glowy natural makeup is also great, and I kind of wish that Anna Hathaway had gone for a lipstick that wasn't so harsh on her.  A pink would have been prettier with a bit of blue smoky eyeshadow on the eyes.
Thoughts?  Is there anywhere out there that likes Jennifer Garner's dress?