The Yes To brand expands their skincare collection with a line of products specially designed to moisturized.  My favourite item from everything out there is the Yes to Cotton Micellar Water.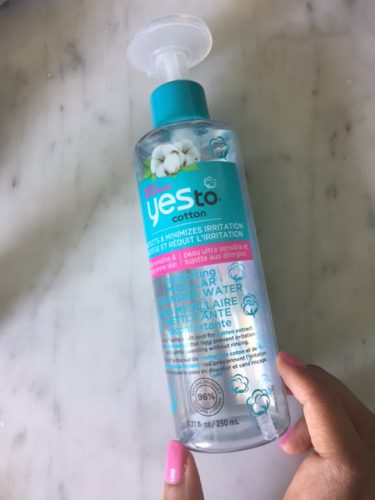 Let me just say that I can't get enough of Micellar Water.  It literally melts makeup off your skin but without being greasy and heavy and that's why I like it.  I know you need to use cotton pads with it and that can seem like a waste, but I just put it on a washcloth and use that to wipe off the makeup.
Micellar water is great because it doesn't strip your skin as it cleans the makeup off, but I do like to follow up with another cleanser so that I can be sure that I got everything off.
The Yes to Cotton Micellar Water isn't made with mineral oil – in case that matters to you – but there is a cotton seed oil in it to help break down the makeup and wipe it off.  The Yes to Cotton collection is formulated for sensitive skin types and includes a moisturizer, mask, and makeup remover wipes and pads.
The Yes to Cotton Comforting Micellar Cleansing Water is $8.99 and available at Shoppers Drug Mart.