Talk about a product that I was itching to try.  Over the past few year, soak off gel manicures have become THE manicures of choice because you don't have to file down your nails to get them done, and when you're done with your manicure, you just soak the nails in the remover, and the "gel" can be scraped off.
You may have already heard of Shellac and Axxium which are salon products.  They are both awesome and give you pretty nails that can last up to 2 weeks, but honestly, I don't have time to book a mani/pedi appointment let alone allocate 2 hours for an appointment at a salon, so the at-home versions are pretty appealing.  Apparently, they work just like a salon gel manicure, but in the comfort of your own home.  I'm sure that the companies that make Axxium and Shellac would say that the at-home versions are not as good, but lets face it, any service done at a salon done by a trained professional is going to be way better than doing it yourself at home.  That is just what the additional cost is for and it's totally worth it.
That said: I'm a do-it-yourselfer (for better or for worst), so the at-home gel option is my kind of thing.
Quo was nice enough to send me a sample kit to try out for myself and I was beyond thrilled.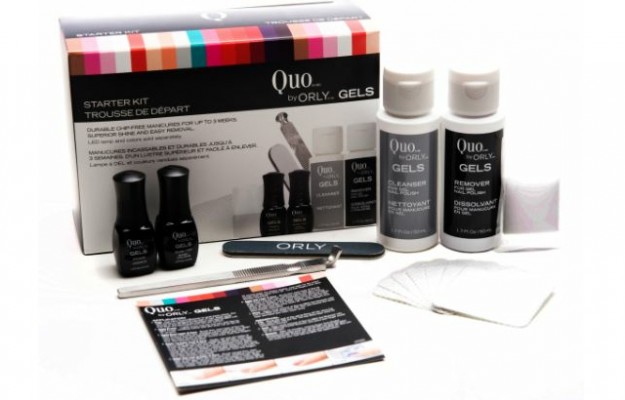 They sent me the Quo by Orly Gels Starter Kit ($40) which includes the following:
Cleanser – 50ml – to clean nails prior to application;
Primer – 4.4ml – to prime nails for application;
Base + Top – 4.4ml – to insure a long-lasting, chip-free manicure;
Remover – 50ml – to remove colour;
Pocket Removers – 20 pack – to remove on the go;
Pusher & Remover – to aid in removal;
Mini Nail File – to shape nails prior to application;
and Lint Free Nail Wipes – 20 pack – to add shine to your manicure.
They also sent me one shade of the Quo by Orly Gel Colours ($10) in So Kissable which is a very sheer peach colour.  If you've seen my nails you know that this is so NOT my colour.  I prefer creams in opaque shades and this was nowhere near opaque even with 3 coats.  Nevertheless, since this is what I got, I tried it out.  The Quo by Orly Gel Colours come in 10 shades: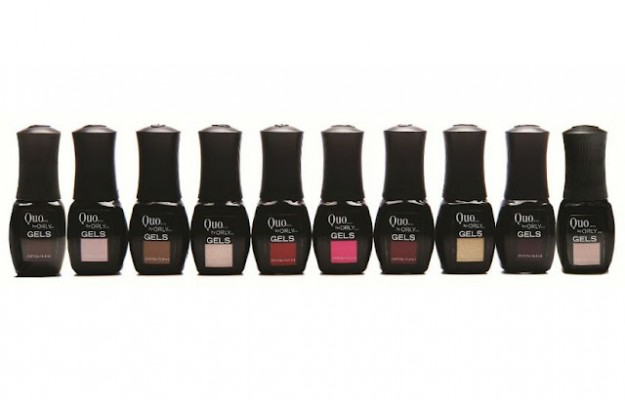 Very Vixen, Chestnut Roasting, So Kissable, First Class, Filthy Rich, It Girl, Meaningful Destiny, Victorian Lace, Burning Love and Candlelight Dinner
I also got the Quo by Orly LED Lamp for Nail Gels ($80) which you need to "cure" each layer of polish so that it doesn't chip off.  The lamp has a 30 and 60 second timer on it, so you're never leaving your nails under the lamp for too long.
The system is fairly easy to use. You just file your nails, push down the cuticles, clean the nails with the cleanser that come with it. Then you apply the primer, then the base. You cure the base, and then apply a coat of the polish, curing it after each coat. The base takes 30 seconds to cure, while the polishes take 30 seconds if it's a light colour, and 1 minute if it's a dark colour. As I mentioned, I applied 3 coats of the polish. After your coats of polish, you apply the top coat and cure that. Wipe the polish with the cleanser and you're good to go!
Here's what my nails looked like after: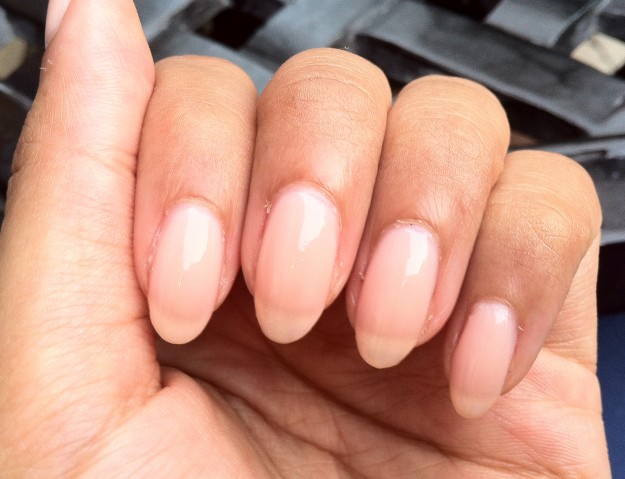 As you can see, the polish is very shiny and looks nice. I wouldn't say that I did a "professional" job – there is a learning curve here because you're applying so many layers of polish and it's quite thick – but I was happy with the way that the polish looked, and from afar, everyone I asked said that it looked great.
Here is what the polish looked like after 5 days – 4 of which I was on vacation.
As you can see, the polish is slightly more dull and I believe that it did discolour a bit. The good thing, however, is that it didn't chip at all, and it still looked relatively fresh. With a regular mani, I would have had some wearing at the tips by now, but with this manicure, I didn't even have that. I have quite a bit of nail growth, but that's also because I purposely didn't apply the polish right to the base of the nail. Because the colour was such a natural one, you couldn't tell that my manicure was growing out. A good gel manicure can last from 2-3 weeks, but from my experience even 2 weeks is pushing it just because the growth is so much.
I don't have a 2 week picture to show you because after this day, I actually ended up taking the polish off because it was too messy-looking for my tastes and I wanted the look of a fresh manicure.
Removal is pretty simple: you soak your nails for 10 minutes in the remover, and then scrape off with the accompanying tool. Here's what my nails looked like afterwards: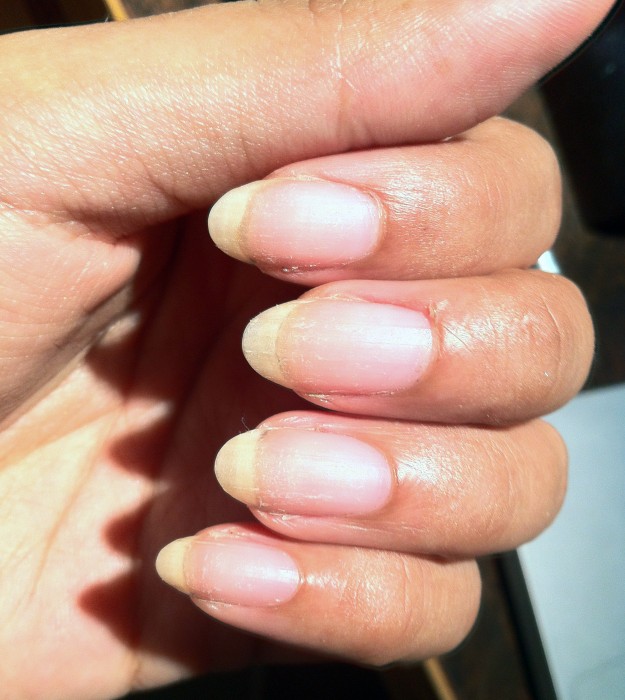 They don'e look as clean and healthy as they did before the whole process, but as you can see, there's not too much damage to the actual nail.
So what I decided to do was see if I could use regular polish with the Quo by Orly gel base and top coat. I just like the selection of regular polish colours better, and I am kind of into my own colours. I'm the girl that takes my own bottle of polish with me to my mani and pedi appointments (when I do have them) because I always like my own colours way better.
So I used the primer, the base coat, and then used American Apparel Neon Orange and Zoya Wednesday polishes to do this design. I then topped it with the Quo by Orly gel top coat and cured it. Look at what happened: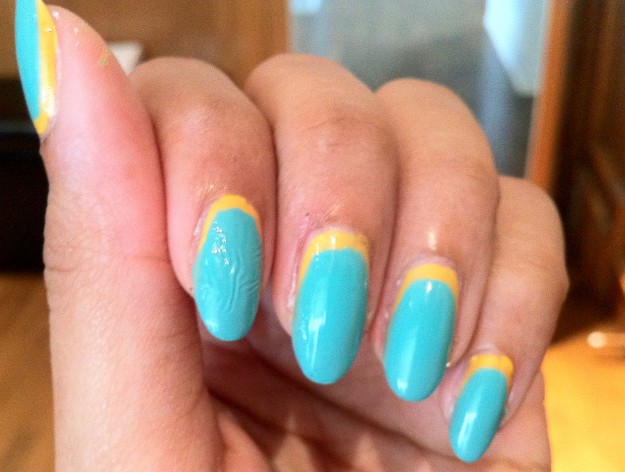 When I went to wipe my nails clean with the cleanser, I noticed that there was a wrinkling effect on my nails. It's almost as if the regular polish didn't adhere to the base coat, and then the top coat didn't adhere to the regular polish. The whole manicure was delicate and needed more drying time. I tried curing it more but that didn't work. I was thinking of taking the whole thing off, but the manicure had taken so long to do and I had dinner plans, so I decided to just be careful with the whole thing and see what the next day brought. I was able to smooth out the wrinkling with my fingers and just avoided rubbing my nails in any other way.
The next morning, the polish had set, and it was budge-proof! I wasn't happy with the wait time, but at least I was able to salvage my manicure, and it lasted for quite a while! Here's a picture of it on day 8: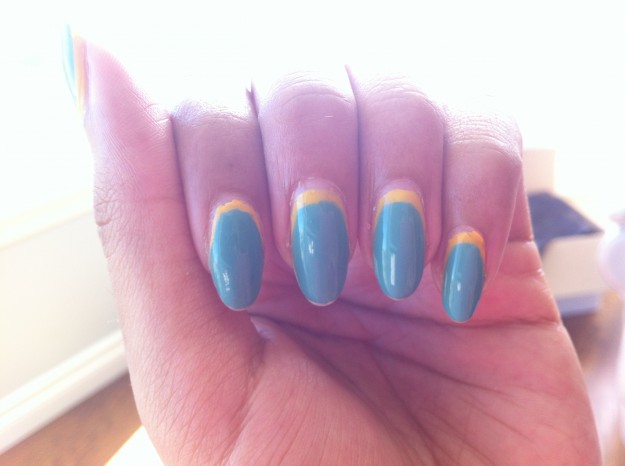 Not bad, eh?
The manicure looks almost perfect, but a word to the wise before doing a manicure with design… you'll get sick of it really quickly. I did notice that the polish started to chip around the base, and since it was lifting, it would get stuck in my hair when I washed it. That became annoying, and so on the 9th day I removed the polish. I could have kept it on, but it just didn't look great anymore. I can see too much growth after a week to be happy with the polish.
My last test was to try the polish without the Quo by Orly Gel base coat. This would cut down on my application time, and I was hoping that I wouldn't have the wrinkling that I had before. So I used a regular nail polish base (these days I'm using L'Oreal's One Stop Base). I then applied two coats of Lancome's new Infusion de Prune ($16, from their fall 2012 collection), and then 2 coats of the Quo by Orly Gel top coat. I set the top coat under the light after each application, and when I went to wipe it clean, there was no wrinkling! Success! Here's a picture: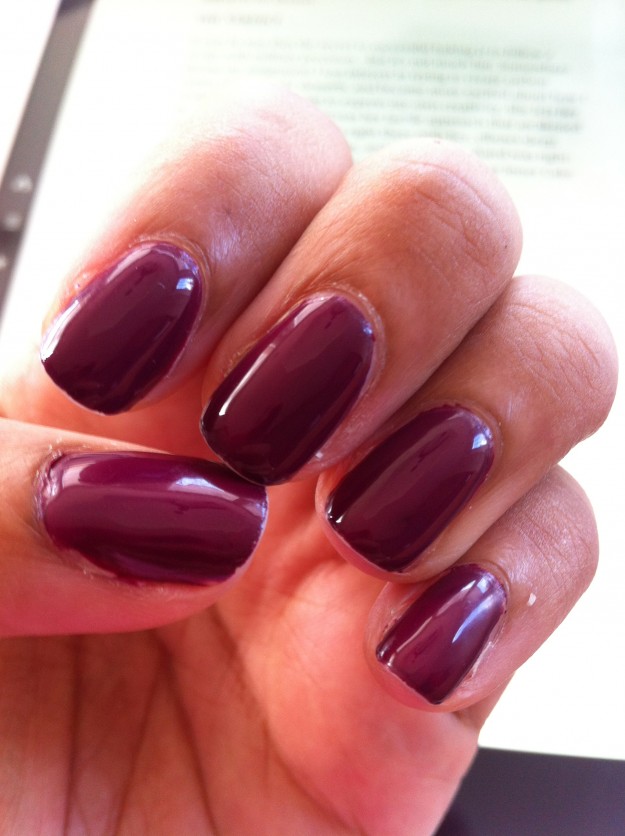 After a week, I had a major chip on my thumb, but the rest of my nails still looked pretty good.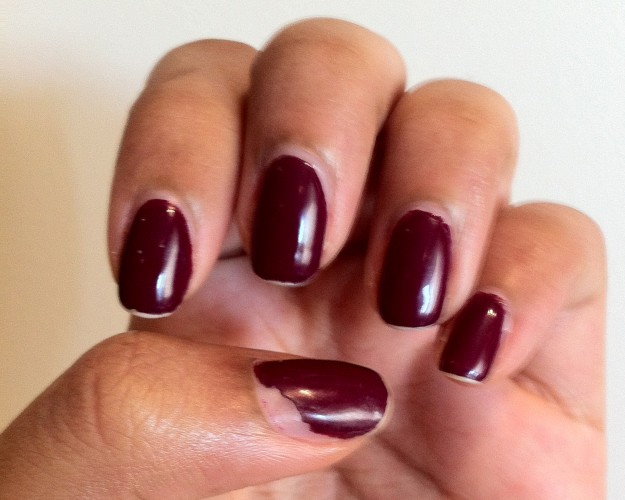 I mean, there's definitely some wear there, but I have a feeling that may have been because of the application. Even the chip I got was because I used too much of the top coat and there was a spot of pooling where the chip was. The chip didn't bother me enough to change my nail polish, and I ended up keeping it on for a couple more days even though I was itching to take it off.
…And that leads me to the one thing I don't understand about gel manicures. Yes, they do last for 2 weeks without chipping but the growth after 1 week is pretty noticeable and many of my friends that have had it are sick of their nails in about 8 days. Though the grown doesn't look bad from far, it's definitely noticeable to the wearer, and is a dead giveaway of a gel manicure to anyone who has a trained eye. So though the mani could last 2 weeks… that doesn't mean that you should go that long without doing your nails.
My last test for the Quo by Orly Gel mani was to put it on a super glittery nail polish like OPI's Warm and Fozzie or the Kardashian Kolor's Disco Dolls, because these polishes have notoriously bad lasting power, I thought I'd apply 2 coats and then put the gel top coat. Guess what? This polish chipped so fast that I didn't even get a chance to take a picture of the mani. The polish basically fell off one nail at a time as I got dressed in the morning, as if I were wearing fake nails.
So thus concludes my Quo by Orly Gel Nail experiment.
All said and done, I was worried that I was becoming a little too biased towards the system. After all, I had gotten by just fine with my regular base and top coat, and still had a decent 5 days of wear. So, of course, being the dedicated blogger that I am, I did a plain old regular mani using my mainstay L'Oreal base and top coat and two coats of Essie nail polish in between. I had chips on the very tips of my nail on the first day, and my right hand looked messy after the second. Moreover, I really missed the super shiny, smooth finish of the gel topcoat, and though the application process, I missed the 30 second drying time. Nothing beats it.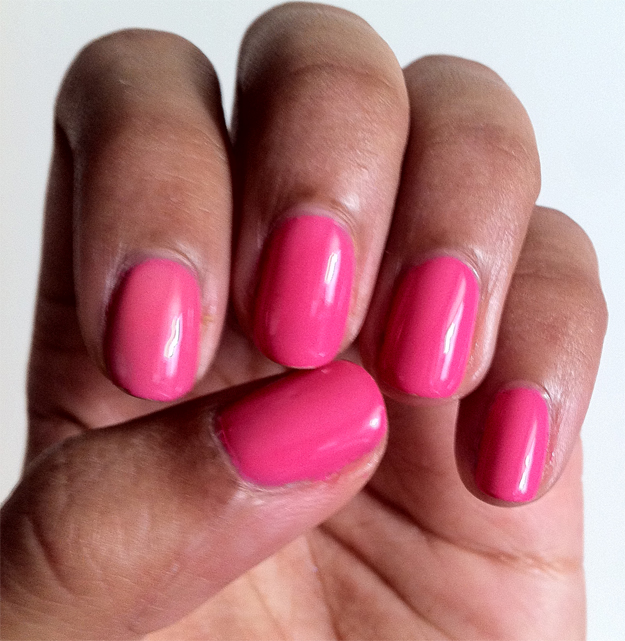 So I'm wearing Essie's Off the Shoulder today with a top coat of the Quo by Orly Gel Nail top coat. I love the entire system, but I love my own polish colours too much to ever invest in theirs. Perhaps if I could find a pink or nude that I really loved, I would invest in that aspect of the gel nails too, and I'm sure as the system matures, they'll be introducing the hottest newest colours each season. Even if they don't, I'm sold, and this is fully something that I'd invest in. The polish just wears that much better, and the entire system takes your nails to the next level.
Although there is a learning curve to applying the polish well, it's doable, and after a summer of doing these manicures, I'm getting close to perfecting the techniques. I'm not an expert, but I'm going to be asking my local nail aesthetician for advice on how I can apply this better. I have learned that the secret lies in applying very thin coats, and staying well away from the edges of the nail.
The most expensive part of the system is the LED lamp. Apparently, you can get an LED or UV lamp from your local Sally's Beauty or nail polish supply store, and from what I hear, they run about the same price as the Quo by Orly LED lamp, if not more. I also hear that you can get the lamps for as cheap as $10 from markets in China or Taiwan or eBay! I have not looked into that so you guys are on your own for that one.
Have you tried doing an at-home gel manicure, or do you think you ever will now that the technology is so accessible?