…. to an open house at Bath and Body Works!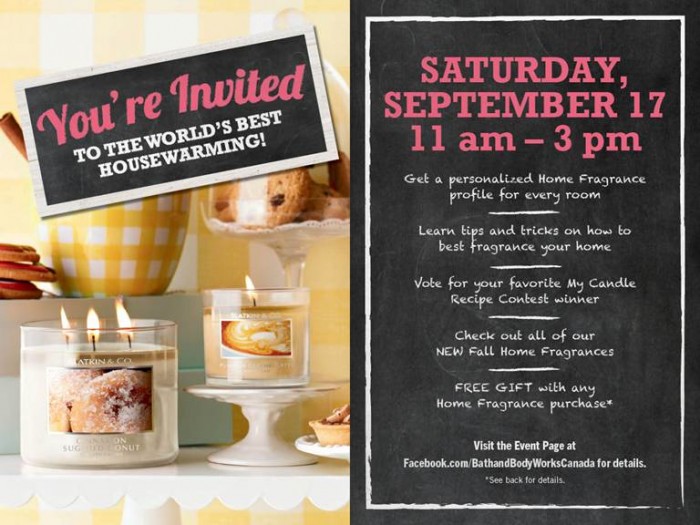 EXPERIENCE THE ULTIMATE HOUSEWARMING PARTY AT THE BATH & BODY WORKS HOME FRAGRANCE EVENT
Learn the best ways to fragrance every room in your home for each season with help from Bath & Body Works—the ultimate destination for home fragrance. On September 17th, Bath & Body Works invites you to learn how to personalize your home with the perfect seasonal scents at the Home Fragrance Event. From fragrance tips to special gifts, the event promises to deliver everything you need to reinvent your space through scent. Stop by your closest Bath & Body Works store to:
• Get a personalized Home Fragrance profile for every room
• Learn tips and tricks on how to fragrance your home
• Vote for your favourite "My Candle Recipe" Contest winner
• Check out the new Fall Home Fragrance collection
• Get a free gift with any Home Fragrance purchase (while supplies last)
Head to www.Facebook.com/BathAndBodyWorksCanada for all the details.
WHO: Bath & Body Works
WHAT: Home Fragrance Event
WHEN: Saturday September 17th 11am-3pm
WHERE: Bath & Body Works Stores nationwide