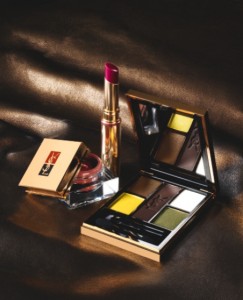 When we took a look at Yves Saint Laurent's fall collection this season, we were caught by surprise. Check out their Bronze Gold eyeshadow quad. It features a bright yellow eyeshadow paired with a khaki green and a shimmery chocolate brown. Who would wear these colours?
Well, obviously we needn't have worried, because the fine people at YSL had thought it all out. It turns out that the colours don't wear as bright as they seem in the quad. They're actually quite sheer and pretty, and the yellow wears more as a gold, whereas the khaki green is a nice accent to it.
Pair with their new Creme de Blush which is a mousse formulations. It comes in 2 colours but they are pretty for any skin tone.
The accompanying lip colours for the Fall 2009 collection are dark, and work well on their own or which the quads in the collection. Available at your local YSL counter.