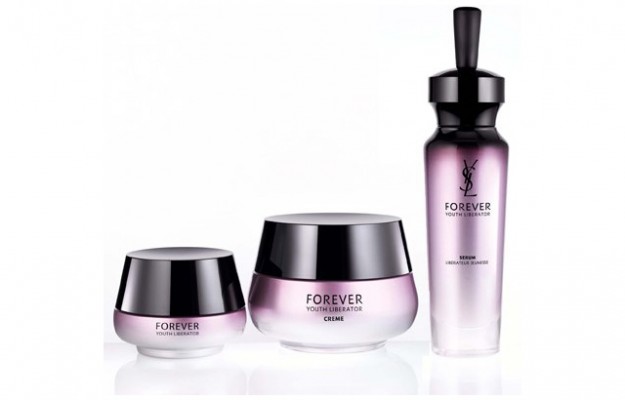 I took the YSL Youth Liberator 30 day challenge, and no, it hasn't been 30 days yet, but I've already noticed a difference in my skin, so hence the review.  I got the products from the PR people at YSL, but other than that, no compensation was provided to participate in the 30 day challenge.  Normally, the products wouldn't be enough to keep me using the system for 30 days, but I like the products I got so much, that I just kept on using them.
It turns out that YSL Forever Youth Liberator is the hottest anti-aging product of the season.  The line contains Glycanactif™, a patented¹ combination of three glycans, to help increase youthful activity in skin cells.  If there's one anti-aging product you try this year, let it be this one because there's scientific evidence that it actually works.  Turns out that Glycans help your skin retain and moisture and plump it up so that skin actually looks younger and more youthful.
The line includes lotion, a day cream with SPF 15, serum, and cleanser, and of those, I tried the Cream and Serum.
My own experience with the Forever Youth Liberator line was a great one – I don't have major wrinkles, but the days that I used the products I found that my skin was smoother, and nicely hydrated.  It took care of dry skin spots but it's not greasy so it didn't add any oiliness to my skin either.
The moisturizer is the richest product and would be best used at night (if it didn't have SPF in it), because it does tend to get a little "gunky" if you apply any product on top of it.  Using it with foundation was a no-no, unless I applied the foundation before the moisturizer had a chance to set. The serum is a highly moisturizing one and easy to use because it works for day or night.  The combo of the moisturizer and serum would be great for anyone who has very dry skin.
The night cream is also lovely and really makes a difference in the appearance of wrinkles around the eyes.  It noticeably reduces the wrinkles around the eyes within a matter of days.
Each product in the range retails for over $100 so this is.