YSL's Spring 2010 collection is quite pretty and has everything you need to wear a shimmery nude look this spring.  The packaging, as always, is quite lux, and the products don't disappoint – they are high-quality and go well together, so that if you wanted to update your look, you could just do it at this one counter.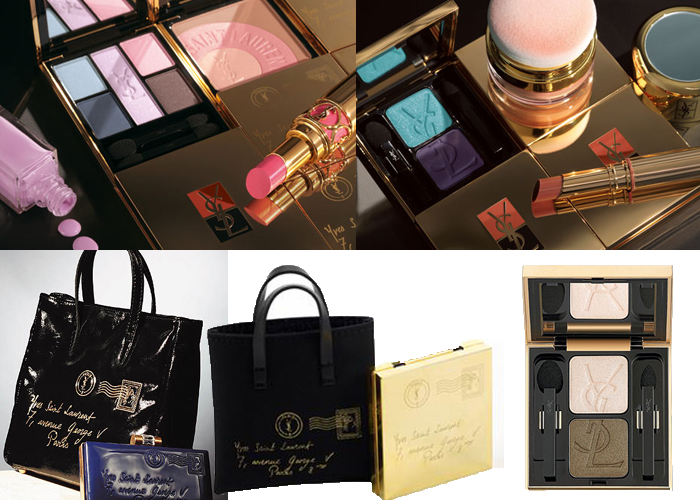 My favourite product from this collection is the eyeshadow duo in Golden Pink/Precious Bronze (bottom right of image above), and I'm clearly not the only one because this duo is already sold out on the YSL website!  The golden pink is such a pretty iridescent pink (it really is more pink than the cream that it looks like in the image) and the bronze works well as a liner or applied all over the eye for a smoky eye.  Both look lovely paired with black liner, and a lot of lashes.
The cutest thing is that the Face Complexion blush/highlighter compact comes in a tiny cloth version of the YSL Mail Tote!  It's a nice touch and was a nice surprise when I pulled the compact out of its box.
Nail trends this season are nude nails, and YSL is offering a pale beige shade and a creamy lilac.  Both are so springy that you'll take off whatever dark colour you're wearing and opt for that instead.
If you want to update your look this spring, head to YSL and pick up some iridescence.  You will not be disappointed.