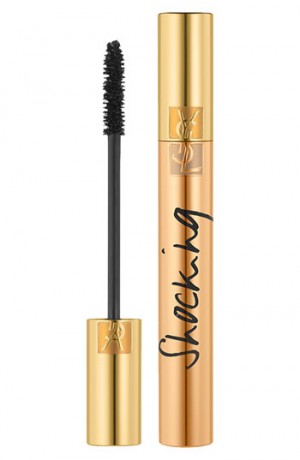 New to the YSL counter is what the beauty writers are calling the "shocking" mascara, because it has the word shocking in its name, and it packs a punch!
This is YSL's best mascara to date. It's definitely the best one that I have tried, even though it's not perfect. Read on…
What I love about this mascara is that it is a really rich black colour that's completely matte. It just makes the lashes really pop! It's also a mascara that lasts the whole day without any fading or smudging which is awesome.
I did find that the mascara flakes a little, especially towards the end of the day, but for the most part, the flaking wasn't that noticeable.
I also had a hard time using the brush at first. This is because it picks up a lot of mascara from the tube, and thus, it will apply slightly clumpy. My suggestion is to wipe the brush first and then apply. I just wipe it a few times on the edge of the mascara tube's lip and that's enough to fix the clumping problem.
The mascara has Volume in its name, and it definitely does layer well and provides lots of volume. The mascara also seemed to curl my lashes a bit, and I love that! They just look pretty, voluminous, and uniformly covered.
The mascara is $36 and comes in lots of different variations of black: cherry black, sea black, and my fav is deep black. Pick it up at Holt Renfrew right now, and Murale and The Bay this November.