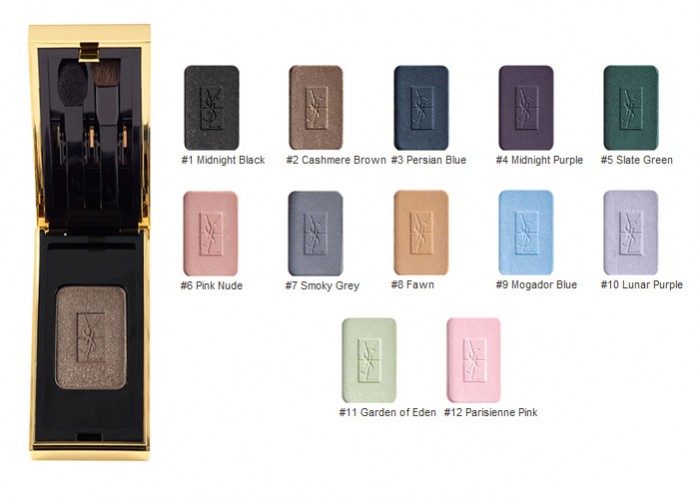 Besides the Touche Eclat, I feel that YSL makeup gets overlooked much too often. In fact, it is some of the best quality and easily available makeup out there, and I am wowed time and time again by the eyeshadows, lip glosses, and the rest of the makeup.
YSL has not redone their eye makeup. The eyeshadows, which were once only part of palettes, are now sold individually and they are amazing. Easy to use wet or dry, and with depth of colour in each container, the eyeshadow singles now have a permanent place in my makeup drawer along with the Giorgio Armani palettes that came out earlier this year.
My favourite colour is the #7 (Gris Flanelle) – it's a smoky grey that has subtle greyish, purplish shimmer in it and it works well by itself or paired with a dark liner for a smoky eye. I also love their long-wearing eye pencils which aren't waterproof, but last through the day anyway and come with their own sharpener so you won't ever be searching for one.
Overall, there are some great colours in the collection of singles – including a really shimmery taupe (No. 2, pictured above) that would be perfect for everyday, and a black that's perfect as a wet liner or can be used for major contouring.
Check out the collection wherever YSL is sold, which in Canada is at Holt Renfrew, selected Bay and Murale stores. The Eye shadow retails for $32, the Long-Lasting Eye Pencil is $28.