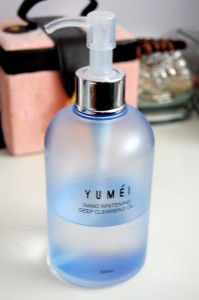 Yumei Nano Whitening Deep Cleansing Oil is a cool asian product that I picked up when I was in Hong Kong. It's very similar to the Shu Uemura Cleansing oils, and is also produced in Japan.
The main ingredient is camellia oil, which is known for its moisture retaining ability. Camellia oil also helps to inhibit age spots and sun pigmentation.
The Nano Whitening Oil is not going to whiten skin, but will help decrease pigmentation which will give you brighter skin.
The Yumei cleansing oil is nice, but I still prefer the Shu Uemura for two reasons. First, the Shu Uemura oil emulsifies much more easily. I found that I needed more of the Yumei oil to get the same clean feeling I got from the Shu Uemura. The second reason I prefer the Shu Uemura oil is that it smells prettier. Superficial and picky, but true. The Shu Uemura is scented with a fragrance that gives it a nice, clean smell. The Yumei is fragrance free, and smells a bit like camellia oil. This probably makes it better for those of you who are sensitive to fragrance.
The really big thing about Yumei that makes people want to buy it is the price. It works nearly as well as the Shu Uemura oil, but is literally half the price. So you pick your battles. They're both really nice cleansers that clean off unnecessary dirt and oil without stripping your skin.
Both cleansing oils can be found on bonjourhk.com/