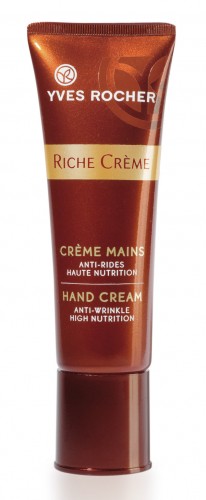 I am a hand cream fiend. I always rush out of the house without taking the time to put any on, so I keep some at work that I can apply first thing in the morning. On my desk right now is Yves Rocher Anti-Wrinkle Ultra Nourishing Hand Cream.
I was actually wary of trying this, if you can believe it. I figure my hands don't really need an anti-wrinkle treatment and are better left alone, but then I had it on my bed-side table and figured, what the heck.
The cream is wonderful.
Yves Rocher says that is formulated with 6 precious oils "sunflower, soy, sesame, grapeseed, coprah, rapeseed" and I believe it. The cream is unbelievable moisturizing, and seems to protect hands for the whole entire day. It's definitely rich and for very dry skin.
I also love how it smells, and this is the best smelling hand cream that I have come across in a long time! The slightly floral scent is sophisticated and light so that it's not going to bother anyone when you wear it.
And you can't beat the price: $9.50 for a 50 ml tube. Available at Yves Rocher stores or their website.