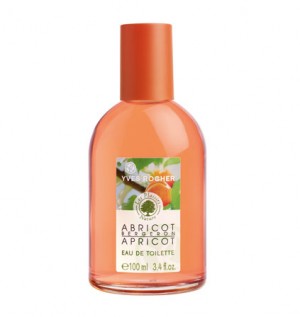 I'm not usually one for fruity scents, but when something is so fresh and light, it's hard not to be enamoured with it.
Such is the case with Yves Rocher's Bergeron Apricot Eau de Toilette.  This soft scent smells just like fresh picked peaches, to the point where you can almost taste the soft fuzzy skin on the fruit.
This scent, like a few of the others I've reviewed, doesn't last long, but it does leave a little something behind when you wear it.  It's a soft fruitiness that you still smell hours afterwards, even if you don't get a sense of the whole scent.  Bergeron Apricot is easy to wear and unobtrusive.
Pick it up at Yves Rocher for just $11.20 (on sale from $14).  The scent also comes in a body lotion, a shower gel, a lip gloss, and in a travel size.