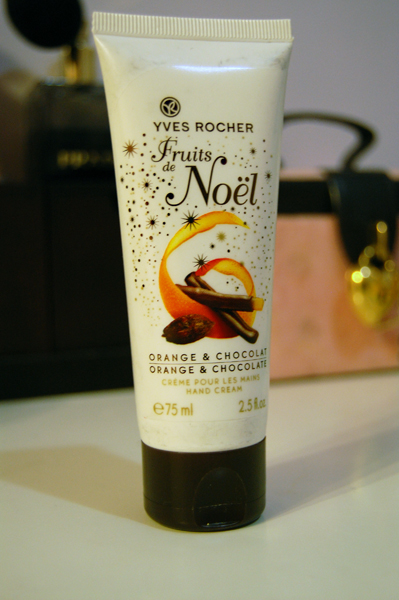 So I know we've already talked about a few pieces from this year's Yves Rocher Holiday Collection, but the Orange & Chocolate hand cream smells so amazing I had to share.
I work a couple of days a week as a barista, and that in combination with winter makes the skin on my hands so dry that I'm always looking for new hand lotions. The Yves Rocher Fruits de Noel Orange & Chocolate hand cream smells almost exactly like a chocolate orange and actually hydrates fairly well bearing in mind that it's a scented lotion.
You know what I'm talking about, how some scented lotions smell nice but leave your hands almost drier than they were before. I actually shared this one around at work because it smelled so nice, and every single person loved it. We're usually pretty sick of sweet smells because we're around them all the time, but this one has the right combination of tangy orange to balance out the chocolate.
Literally, smells so good that you want to eat it right up. That, AND it's non-greasy, absorbs super fast, and is fairly hydrating.
Also, it's only $4CAD on yvesrocher.ca, so what are you waiting for?