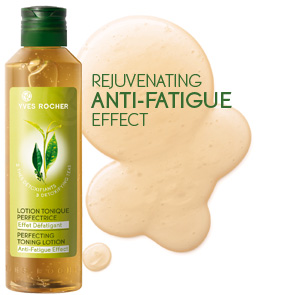 Yves Rocher, the French brand that puts a herbal twist on skincare products, has a new line of face care products that are formulated with the healing properties of teas.  One of my favourite products from the line is the Perfecting Toning Lotion.
The reason that it is called a lotion, is because unlike other toners, this is in the form of a gel that you can use with a cotton pad or without.  Because it's a gel, you can just smooth it on your face to get a really refreshing effect.
I loved using this, and I know that I'm going to love it even more in the summer when I come in from the heat and need something to cool me down.
This is on sale for $9.50 right now!