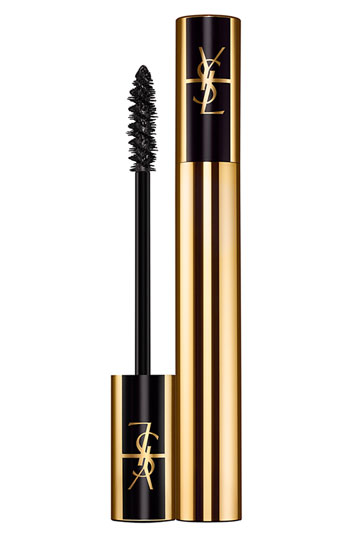 This mascara literally claims to do it all: " Glamorous volume, bold length, voluptuous curl and dramatic styling: Mascara Singulier dares to do everything." And guess what? I can't speak about the curl, but it does do everything else. This is the first Yves Saint Laurent mascara that I can stand behind and say that I absolutely love. I love it so much that I use it daily and have amazing results every single time.
The reason it works so well is because of the brush. It is a traditional skinny mascara brush and one that is molded a special way so that it applies mascara better. Because the brush is new, it does take some time to get used to, and the key is to twist the wand as you are applying the mascara.
You will get the non-flake no-smudge formula on every single lash, and you can layer on tons to get really glamourous full looking lashes.
What I like best about this mascara is that it dries soft and looks sort of natural instead of drying hard and stiff.  The mascara wand also separates your lashes so that they look fuller and like they've multiplied. All thanks to a few coats of this mascara.
The mascara is $36 and available at Holt Renfrew, Murale, and The Bay.