How much does sustainable skincare mean to you – what I mean is, do you care about whether your packaging is recyclable and where your ingredients are coming from?  Honestly, it's something that I do think about from time to time.  I go through a lot of skincare and I hate to see packaging go into the garbage.  I compost and recycle as much as I can but there's always other things to consider.
Now there's Zero Skincare – and the whole concept is that it's clean, green and recyclable.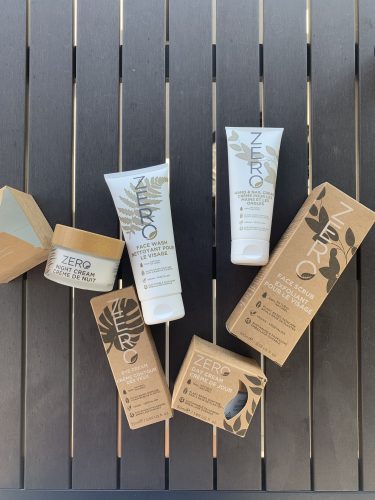 That means that all the products in the image above, the boxes, the tubes, the lids, and the jars can go right into the recycling bin when you're done with them and hopefully they don't end up in a land fill.
I opened the hand cream ($19.99) right away and I've been keeping it near so that I can reapply as needed.  Now, my hands are pretty dry because of all the washing I've been doing, but this cream has been great at adding a dose of moisture.
I also really liked the ingredients in the formula – they include shea butter, glycerin, sweet almond oil, and coconut oil and yet the cream doesn't feel overly greasy.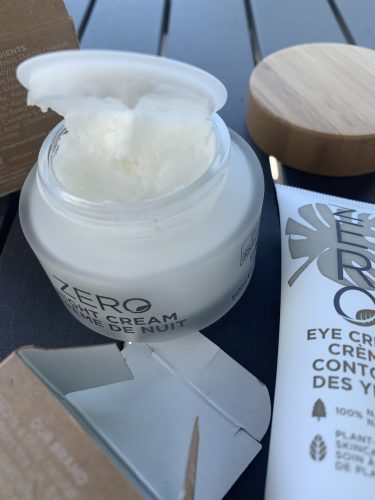 Here's a texture shot of the night cream ($34.99) and you can see that it's quite rich and thick.  It's also got shea butter in it, and in fact that whole formula is 100% natural. In fact, I found both the day cream (also $34.99) and the night cream to be a little rich for my skin, but if you have dry skin you will love them.
My favourite product from the whole Zero line is the Zero Face Wash ($24.99).  It's super slippery which makes it a treat to massage into your skin.  It foams a little bit but washes completely clean.
There's also an eye cream and face scrub in the products – and they're all botanical and vegan.
If you're going to check the Zero skincare line up at Shoppers Drug Mart, make sure to try the hand cream and the face wash, and the night cream if you have dry skin.  They are winners.
Available online and in stores.