Zoya's holiday collection is called Flame and features some ultra-glittery polishes that promise to give you a foil effect on the nails.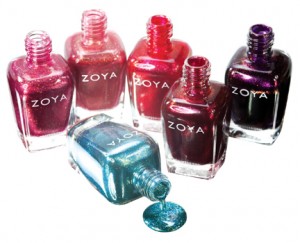 The colours are:
Tiffany – Pink, peach and light copper toned foil particles accented by flecks of gold foil.
Gloria – Rose, mauve-pink and magenta foil particles with gold and subtle red metallic accents.
Crystal – Light, silvered shiny blue metallic foil with sparks of brilliant yellow gold.
Lisa – iridescent combination of deep raspberry pink, bright candy apple red and subtle gold tones in a dazzling sparkle finish.
Sarah – Pearls of dark fuchsia, red-violet and ruby tones in a bright sparkle finish.
Valerie – Royal purple, dark violet, red, deep pink and gold iridescence amplified by a glittering sparkle finish.
As always, the polishes are free of toluene, camphor, formaldehyde, and dibutyl phthalate (DBP).  Get the collection wherever Zoya polishes are sold!